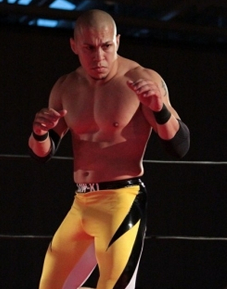 HUSTLE EXCLUSIVE! The World Warrior Scores A Major Victory As New Japan Pro Wrestling Expands Into The United States!

It was one of the featured matches on New Japan's debut show in the United States, a co-promotion with Jersey All Pro Wrestling at the Recreation Center in Rahway, New Jersey.
Fresh off a stint on WWE's NXT program, the former Kaval returned to his roots as "Low Ki" and teamed with former TNA standout Homicide to take on a pair of New Japan legends, Jushin "Thunder" Lyger and Tiger Mask.
"After spending 2 years in The Land of Make Believe, it felt great to be back in the real world, where people can value true skill," Ki told THE HEYMAN HUSTLE during an exclusive conversation this afternoon, "where they don't have to be told what they like."
Never one to pass up on a true opportunity, Ki scored big. At the 10:41 mark into the match, Low Ki pinned Tiger Mask after nailing A PICTURE PERFECT KI CRUSHER! "I knew the momentum of career had changed the moment the referee's hand hit the mat for the third time," Ki told us, "and I'll be the first to admit, it didn't just feel good, it felt great!"
Next on Ki's mind? The IWGP Junior Heavyweight Title, which he proudly held as the 55th champion from September 2008 to January 2009. "It's my goal to be champion again," Ki confessed to the Hustle, "I want to be a champion that goes down in history for bringing the most honor and prestige to the title! It's the champion who makes the championship, not the other way around!"
You can follow "The World" Warrior Low Ki on Twitter HERE
Of course, we're HustleTweeting about this entertainer proud professional wrestler, and you're more than welcome to join the conversation! Follow THE HEYMAN HUSTLE on Twitter HERE or write to us at hustleoncrave@gmail.com
You can also subscribe (for FREE, cheapos, absolutely FREE) to our Ultra High Quality YouTube Channel HERE, and don't forget to check out our old school social networking skills by visiting us on Facebook HERE and even on MySpace HERE
CLICK ON THE PICS BELOW TO SEE FAMED PRO WRESTLING PHOTOGRAPHER
GEORGE TAHINOS' EXCLUSIVE GALLERY OF LOW KI AND HOMICIDE'S EPIC
CLASH AGAINST JUSHIN "THUNDER" LYGER AND TIGER MASK!

IT'S TIME FOR AN ALL NEW EDITION OF THE HOLLYWOOD CHARLIE
MEDIA WATCH, OUR DAILY TRAVEL ACROSS THE WORLD WIDE WEB.
OUR HIGHLY TRAINED MONKEYS HAVE PICKED OUT THE 15 WILDEST
STORIES FROM THE INTERNET FOR YOUR ASTUTE REVIEW. YOUR PART
IS VERY EASY. ALL YOU NEED TO DO IS PICK A PIC … AND CLICK!