Don't Worry About The Hamburgler vs Ronald McDonald, We've Got A Full Fledged Free-For-All, And It's 100 Percent No Holds Barred!
Ah, those crazy Californians. Right after Game One of the World Series, a fight broke out at a Mickey D's that has to be seen to be believed.

And wouldn't ya know it, we can show it to you!

Why?

Because in this day and age of video cameras inside your cell phones and blackberry digital transmission, nothing escapes the I-eyes. So here's how it all started: Someone ordered at McDonald's. There was a problem with the order. The argument that endued got loud. Someone tried to intervene. All hell broke loose.

Check it out, and let us know what you think. Drop us an email at hustleoncrave@gmail.com or join the conversation with our HustleTweeters on THE HEYMAN HUSTLE Twitter page HERE

Of course, you can check out (and subscribe … FOR FREE!) to our Ultra High Quality YouTube page HERE, and we even have something for you old school social networkers … check us out on FACEBOOK or even on MySpace, and yes, we have updated the MySpace page quite recently. Take that, ya McNugget burpin' bitches!


FORGET UFC 121, WRESTLEMANIA XXVII, AND ALL THE OTHER
NONSENSE … CLICK ON THE VIDEO BELOW AND ENJOY McD I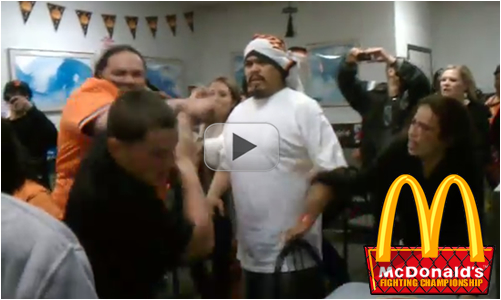 THE HEYMAN HUSTLE'S VERY OWN TRAINED MONKEYS ARE PROUD
TO PRESENT THE TOP 15 STORIES OF THE DAY, ALL CONVENIENTLY
LINKED HERE FOR YOUR REVIEW. NO NEED TO SURF THE WEB, WE
DID ALL THE HARD WORK FOR YOU. JUST PICK A PIC AND CLICK!