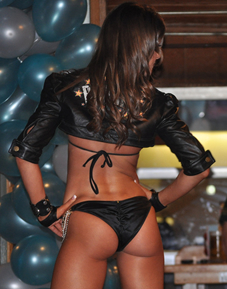 HUSTLE EXCLUSIVE!

TNA Knockout Miss Tessmacher, aka Former WWE Diva (and Extreme Expose dancer) Brooke Adams took 1st place in a Hooters competition in Houston, Texas, and photographer Scott Byrne was on hand to provide exclusive un-coverage of the event for THE HEYMAN HUSTLE
We must caution you in advance. These are some of the hottest photos you'll ever see of the brunette hot body, and that says quite a bit since we've posted eye-popping pics of her HERE … HERE … and HERE
Of course, we're HustleTweeting about Brooke (and enjoying every moment of it), and you're more than welcome to join the conversation by following The Hustle on Twitter HERE or write to us at hustleoncrave@gmail.com
You can also subscribe (for FREE, cheapos, absolutely FREE) to our Ultra High Quality YouTube Channel HERE, and don't forget to check out our old school social networking skills by visiting us on Facebook HERE and even on MySpace HERE
CLICK ON THE PHOTOS BELOW TO SEE THE ENTIRE UNCENSORED
GALLERY FEATURING BROOKE ADAMS AKA TNA'S MISS TESSMACHER!


IT'S TIME FOR AN ALL NEW EDITION OF THE HOLLYWOOD CHARLIE
MEDIA WATCH, OUR DAILY TRAVEL ACROSS THE WORLD WIDE WEB.
OUR HIGHLY TRAINED MONKEYS HAVE PICKED OUT THE 15 WILDEST
STORIES FROM THE INTERNET FOR YOUR ASTUTE REVIEW. YOUR PART
IS VERY EASY. ALL YOU NEED TO DO IS PICK A PIC … AND CLICK!