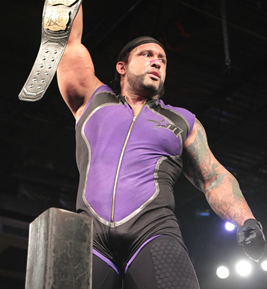 EXCLUSIVE PHOTOS FOR THE HEYMAN HUSTLE!

Former WWE United States Heavyweight Champion MVP has made history, as the Superstar from the 305 defeated Toru Yano earlier this evening at the old ECW Arena in South Philadelphia, Pennsylvania to become the very first New Japan Pro Wrestling Intercontinental Heavyweight Champion.
According to an exclusive report posted by PWInsider's Mike Johnson (which you can read HERE), MVP said that Philadelphia fans are some of the toughest fans in the world, bar none. He said that he can't even say what the reaction he got today meant to him. He said this is a special moment on a special day in a special building. He said he is happy to call NJPW his home and he is proud to call himself a PROFESSIONAL WRESTLER. MVP held up the belt and celebrated. Nice promo. MVP's promos and work this weekend were incredible. All you can say is that WWE really dropped the friggin' ball with this guy. His work was absolutely great and it's a shame politics led to his decision to leave, but their loss was absolutely New Japan's gain.
Famed pro wrestling photographer George Tahinos was on hand to capture the history-making moment as it happened, and THE HEYMAN HUSTLE is proud to be the very first media outlet to bring you the exclusive photos of the brand new NJPW Intercontinental Heavyweight Champion.
We will have much more on the new champion tomorrow right here on the Hustle.
You can follow MVP on Twitter HERE
We're HustleTweeting about this huge career moment for MVP, and you're more than welcome to join the conversation by following the Hustle on Twitter HERE or write to us at hustleoncrave@gmail.com
You can also subscribe (for FREE, cheapos, absolutely FREE) to our Ultra High Quality YouTube Channel HERE, and don't forget to check out our old school social networking skills by visiting us on Facebook HERE and even on MySpace HERE
CLICK HERE TO SEE THE ENTIRE GALLERY OF THE VERY FIRST
NEW JAPAN INTERCONTINENTAL HEAVYWEIGHT CHAMPION, MVP!

IT'S TIME FOR AN ALL NEW EDITION OF THE HOLLYWOOD CHARLIE
MEDIA WATCH, OUR DAILY TRAVEL ACROSS THE WORLD WIDE WEB.
OUR HIGHLY TRAINED MONKEYS HAVE PICKED OUT THE 15 WILDEST
STORIES FROM THE INTERNET FOR YOUR ASTUTE REVIEW. YOUR PART
IS VERY EASY. ALL YOU NEED TO DO IS PICK A PIC … AND CLICK!