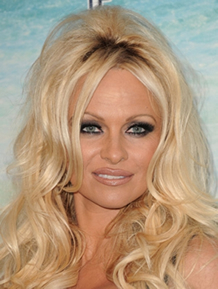 The Bra-Less Blonde Baywatch Bombshell Heats Up Comedy Central's Roast of David Hasselhoff!
Pam Anderson stole the show at the Sunday night taping of Comedy Central's David Hasselhoff Roast, as the controversial beach bunny wore a slinky black see-thru dress for the occasion. Pam became an international sensation starring on "Baywatch" with Hasselhoff from 1992 to 1997. Before then, Hasselhoff's big claim to fame was the "Knight Rider" television show. Pam was already a hot Playboy Playmate and was making sex tapes with the best of 'em.

CLICK HERE TO SEE THE WILDEST PRESS CONFERENCE YOU CAN IMAGINE AS PAM TURNS NEW ZEALAND UPSIDE DOWN!

CLICK HERE TO SEE A VIDEO OF PAM'S MOST CONTROVERSIAL UPSKIRT MOMENT EVER!

The Comedy Central Roast of David Hasselhoff airs on Sunday, August 15th. The panel of insulting celebs includes Jerry Springer, Hulk Hogan, Greg Giraldo, Jeffrey Ross, Gilbert Gottfried, and Lisa Lampanelli.
CLICK ON THE PICS BELOW TO SEE THE ENTIRE UNCENSORED
GALLERY OF PAM ANDERSON ARRIVING AT THE COMEDY CENTRAL ROAST!

THE HEYMAN HUSTLE'S VERY OWN TRAINED MONKEYS ARE PROUD
TO PRESENT THE TOP 15 STORIES OF THE DAY, ALL CONVENIENTLY
LINKED HERE FOR YOUR REVIEW. NO NEED TO SURF THE WEB, WE
DID ALL THE HARD WORK FOR YOU. JUST PICK A PIC AND CLICK!