The Angry Grandpa's Good-For-Nothing Son Is Officially a Fashion Icon!
In an age where YouTube celebrities have defined the DUI Culture, it is without question that The Angry Grandpa is an entrepreneur worthy of worship. And while the pissed off patriarch is the leader of his (dysfunctional) family, it is his faithful videographer, "Kid Behind a Camera" aka "Pickleboy" who has turned the concept of a daily VLOG into a cottage industry. So when Pickleboy appeared on his daily VLOG wearing a beautifully fitting #PaulHeymanGuy T-SHIRT, he graduated from being a YouTube celebrity to a bona fide fashion plate.
Now there are many of you who have been following The Angry Grandpa since his early days right here on THE HEYMAN HUSTLE (do a search, bitches!), and we're pretty (darn) sure none of you will ever accuse good ol' Pickleboy of being a fashion plate. We don't even think Pickleboy would accuse Pickleboy of being a fashion plate. But when you walk around the South (or the North, East or West for that matter, let alone if you decide to do it internationally … and we wholeheartedly encourage you to do so) in a shirt of such prominence and distinction, how can we resist the urge to be accurate and place a label on you befitting only those with the exquisite taste to wear such a garment?

CLICK HERE TO SUBSCRIBE TO ANGRY GRANDPA'S YOUTUBE CHANNEL!
CLICK HERE TO SUBSCRIBE TO PICKLEBOY AKA KID BEHIND A CAMERA'S YOUTUBE CHANNEL!

Of course, we're HustleTweeting about Pickleboy in a #PaulHeymanGuy Shirt, and you're more than welcome to join the conversation by following the Hustle on Twitter HERE or write to us directly at hustleoncrave@gmail.com Hey, have you checked out the Hustle's Ultra High Quality You Tube Channel, with exclusive videos featuring the #HUSTLEBOOTYTEMPTATS SUPERMODEL OF THE YEAR … OUR WORLD EXCLUSIVE WITH MIKE TYSON … BROCK LESNAR'S "HERE COMES THE PAIN" … ICE-T AND COCO's SEX SECRETS … MMA BAD BOY NICK DIAZ … the list goes on and on, so if you're not subscribing, you're missing something … and by the ways cheapos, it's FREE! Yes, absolutely 100 percent FREE! What are you waiting for? Check it out HERE
By the way, we're also old school social networkers, so check out our interactive skills on Facebook HERE and even on MySpace HERE. If you're on Friendster, GFY … and have a pleasant tomorrow!

CHECK OUT THE LATEST ADVENTURES OF PICKLEBOY!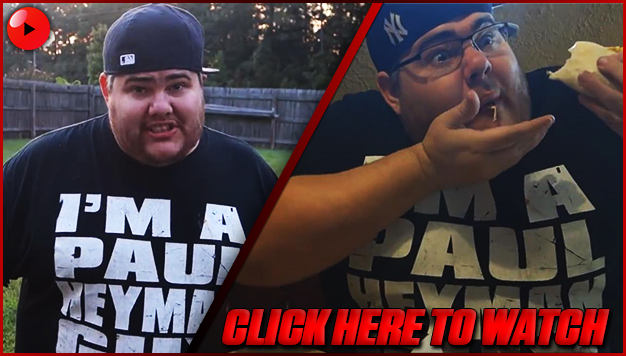 WE HERE AT THE HEYMAN HUSTLE HAVE ENSLAVED HIGHLY TRAINED
MONKEYS TO IGNORE THE FACT THEY ARE OVERWORKED AND UNDERPAID,
ALL IN THE NAME OF SCOURING THE WORLD WIDE WEB TO FIND THE FIFTEEN
MOST PROVOCATIVE STORIES ON THE INTERNET. ALL FOR YOU. NO ONE ELSE
BUT YOU. JUST YOU. AND ALL YOU NEED TO DO IS PICK WHICH PIC TO CLICK!