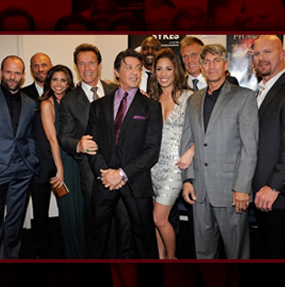 THE HEYMAN HUSTLE Presents Live Coverage From Planet Hollywood in Sin City!
Even by the glitz and glamour scale of Las Vegas, this week's special screening of The Expendables at the Planet Hollywood Resort & Casino in Sin City was a mega-event.

Where else can you see Sylvester Stallone, Stone Cold Steve Austin, Arnold Schwartzenneger, Jason Statham, Tiny List, Holly Madison, and a cavalcade of stars march up the red carpet, with one star bigger than the next?
The film, which opens nationwide today, features a hardened team of mercenaries on a mission to overthrow a corrupt dictator on a South American island. While the plot (shoot, fight, kill, blow things up, repeat) is thin to non-existent, the star-studded cast and exceptional special effects will surely draw a big crowd at the box office.

We're HustleTweeting about Randy Couture and The Expendables, as well as UFC 118 with Couture fighting boxer James Toney. Join the conversation! Follow the Hustle on Twitter HERE
CLICK ON THE PICS BELOW TO SEE THE ENTIRE GALLERY
OF RANDY "THE NATURAL" COUTURE AT THE SPECIAL
SCREENING OF "THE EXPENDABLES" IN LAS VEGAS!

THE HEYMAN HUSTLE'S VERY OWN TRAINED MONKEYS ARE PROUD
TO PRESENT THE TOP 15 STORIES OF THE DAY, ALL CONVENIENTLY
LINKED HERE FOR YOUR REVIEW. NO NEED TO SURF THE WEB, WE
DID ALL THE HARD WORK FOR YOU. JUST PICK A PIC AND CLICK!