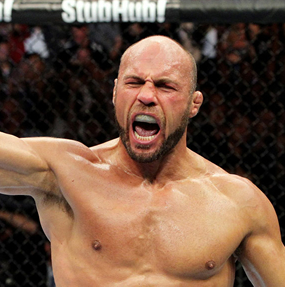 Post-Fight Comments From The Ultimate Fight Championship Hall of Famer Following His First Round Thrashing of Boxing's James Toney
Randy Couture improved his lifetime MMA record to 19-10 and his UFC record to 16-7 when he once again demonstrated he is the master of MMA strategy, this time against Boxing's James Toney at UFC 118.

Couture did exactly what everyone predicted he would do in the fight. He put the boxer on his back and forced a tap out when the pugilist was totally lost as to what to do off his own feet.

Couture spent his training camp practicing a single leg takedown, rarely seen in UFC because any wrestler with rudimentary knowledge of grappling would know to step out of the maneuver. But Couture was sure Toney would not be able to defend against the takedown, and would be lost once Couture grabbed his ankle or heel.

"That's exactly why you don't see a lot of guys (try that move) … because it's pretty easy to counter," Couture said over and over again to members of the media during post-fight interviews, "You shoot from a longer distance away. You have to get pretty low. A good grappler or a good wrestler is going to step out (of that takedown attempt."

Couture told the media, "You're catching his heel, and hopefully you get some pressure on his knee and force him to his butt. I didn't think James would have a counter or an answer to that. You don't see that shot very often in MMA simply because good grapplers counter it pretty easily."
But when Couture entered the cage and gazed across the octagon at his opponent, he couldn't help but notice the large ankle supports on Toney's feet. Couture even smiled unintentionally as he realized his plan had just been made even simpler.
"A huge thing when you're shooting a low single is you're used to doing it against wrestlers, and we're wearing shoes," Couture said. "It's something to grip. When he had those things on his feet, I was like, 'Oh, this is going to be better. I have something I can grip. If it gets dicey or he tries to step out of it, I've got something I can hang onto other than his sweaty foot.'"

UFC President Dana White, who admitted getting nervous before the fight, joked "Big fan of the low single."
Couture said "I had no illusion of standing around and trading any kind of blows with James. I had to pull out the old low single from college and dust it off. The whole camp I was working on the low single because it's pretty hard to counter-punch that. You have to be within arm's length to really hit a double-leg. If I'm within arm's length, guess what. He's got arms he can hit with me. I thought I could get to his feet and put him on his butt."
Couture added, "I didn't feel like he demonstrated any real solid skills once he hit his butt," Couture said. "He didn't close his guard. He didn't protect himself well. I was able to maneuver and get to mount pretty easily. From mount, I knew he had no idea. You could hear his corner yelling at him, 'Trap his arm and roll.' I could hear what they were trying to get him to do. I think he was more interested in trying to punch me in the head."
Couture locked on an Arm Triangle Choke, similar to BROCK LESNAR'S TAP OUT VICTORY OVER SHANE CARWIN AT UFC 116

Toney didn't attend the post-fight press conference, as White mentioned to the media on Saturday night, but he did walk by Couture in the locker room and told Couture the simple words "good job."

In repeating the story to the media, Couture joked, "At least I think that's what he said."


CLICK ON THE VIDEO BELOW FOR HIGHLIGHTS OF
RANDY COUTURE AT THE UFC 118 POST-FIGHT PRESS CONFERENCE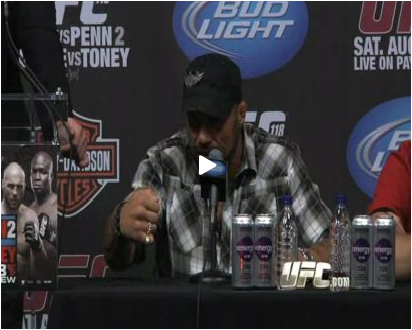 THE HEYMAN HUSTLE'S VERY OWN TRAINED MONKEYS ARE PROUD
TO PRESENT THE TOP 15 STORIES OF THE DAY, ALL CONVENIENTLY
LINKED HERE FOR YOUR REVIEW. NO NEED TO SURF THE WEB, WE
DID ALL THE HARD WORK FOR YOU. JUST PICK A PIC AND CLICK!