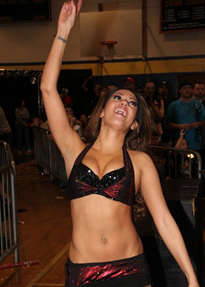 HUSTLE EXCLUSIVE — She's Not Just "The Giants Girl" Anymore!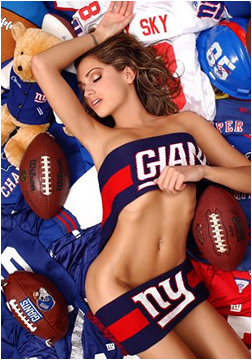 Reby Sky has quite the impressive resume. A professional actress, radio show host, Playboy model and "Miss Howard (Stern) TV," the 5'5" Queens-born Puerto Rican beauty is known everywhere as "The Giants Girl."
CLICK HERE FOR A GALLERY OF AMAZINGLY HOT PHOTOS OF REBY AS "THE GIANTS GIRL!"
Reby's fanaticism for the NFL football team, coupled with her penchant for wearing skin-tight-and-barely-there Giants' clothing during the games garnered her a wild legion of fans of her own, but now Reby has started to pull of the impossible.
Reby, who is currently dating TNA Wrestling's MATT HARDY, has become half of pro wrestling's most controversial couple outside of the ring. The two actually tweeted about it during the weekend, with Hardy of course enjoying the notoriety.
Hardy has been training Reby in the ring, and has been using her as his ringside manager / "valet" during his independent show appearances lately. The two are working on a routine together, and it is has been reported Hardy is looking to add Reby to his act on SpikeTV's TNA iMPACT.
Reby, of course, is no stranger to pro wrestling fans, as she's the host of MTV2's "Lucha Libre USA Masked Warriors."
You can follow Reby Sky on Twitter HERE, and Matt Hardy on Twitter HERE
Of course, we're HustleTweeting about Reby, and you're more than welcome to join the conversation! Follow The Hustle on Twitter HERE or write to us at hustleoncrave@gmail.com
You can also subscribe (for FREE, cheapos, absolutely FREE) to our Ultra High Quality YouTube Channel HERE, and don't forget to check out our old school social networking skills by visiting us on Facebook HERE and even on MySpace HERE
CLICK ON THE PICS BELOW TO SEE THE HEYMAN HUSTLE'S VERY OWN
BOB MULRENIN'S EXCLUSIVE PHOTO SESSION WITH REBY SKY!


IT'S TIME FOR AN ALL NEW EDITION OF THE HOLLYWOOD CHARLIE
MEDIA WATCH, OUR DAILY TRAVEL ACROSS THE WORLD WIDE WEB.
OUR HIGHLY TRAINED MONKEYS HAVE PICKED OUT THE 15 WILDEST
STORIES FROM THE INTERNET FOR YOUR ASTUTE REVIEW. YOUR PART
IS VERY EASY. ALL YOU NEED TO DO IS PICK A PIC … AND CLICK!