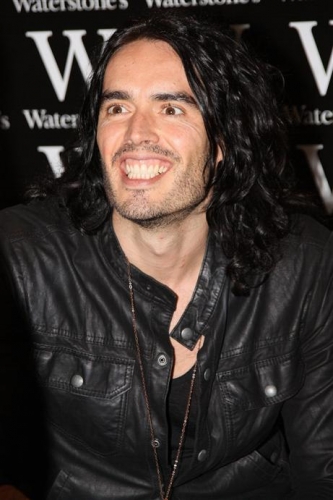 Katy Perry's Hubby Gets Justin Bieber Fans' Panties in a Bunch During a Wild Stand-Up in LA!
Russell Brand better get off Twitter. He's about to be mobbed by angry fans of Justin Bieber!

The comedic actor was performing his stand-up routine in LA as part of his new documentary, which is entitled Happiness. The premise of the flick is Russell traveling across the USA with a group of Marines.
A Justin Bieber look-a-like was sitting in the crowd, and Russell asked, "Did you do that haircut to look like Justin Bieber?"
Brand added, "I bet you are getting a lot more sex than you used to. Let's be honest … Justin Bieber, he can't fuck any of them anyway, can he? Having instead of a penis a corn nut."

CLICK HERE FOR EXCLUSIVE BEHIND-THE-SCENES PHOTOS OF RUSSELL BRAND ON THE SET OF THE UPCOMING MOVIE "ARTHUR"

CLICK HERE FOR A REVEALING LOOK AT KATY PERRY'S REVEALING LOOK AT THE Z-100 JINGLE BALL AT MADISON SQUARE GARDEN!
Russell also said, "The more time I spent in a really masculine environment, the more gay I became. I kept making excuses to try and leave. I told the producers I would be better at researching porn. But they wouldn't have it."

We're HustleTweeting about Russel, and you're more than welcome to join the conversation! Follow THE HEYMAN HUSTLE on Twitter HERE or write to us at hustleoncrave@gmail.com
You can also subscribe (for FREE, cheapos, absolutely FREE) to our Ultra High Quality YouTube Channel HERE, and don't forget to check out our old school social networking skills by visiting us on Facebook HERE and even on MySpace HERE
CLICK ON THE PICS BELOW TO SEE THE ENTIRE EXCLUSIVE
GALLERY FEATURING OUR MAN RUSSELL!

IT'S TIME FOR AN ALL NEW EDITION OF THE HOLLYWOOD CHARLIE
MEDIA WATCH, OUR DAILY TRAVEL ACROSS THE WORLD WIDE WEB.
OUR HIGHLY TRAINED MONKEYS HAVE PICKED OUT THE 15 WILDEST
STORIES FROM THE INTERNET FOR YOUR ASTUTE REVIEW. YOUR PART
IS VERY EASY. ALL YOU NEED TO DO IS PICK A PIC … AND CLICK!