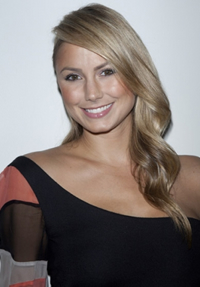 The Former WWE Diva and DWTS Sensation Sure Knows How To Grab Your Attention, Doesn't She?
Stacy Keibler once again was the center of attention at a Hollywood party, as the leggy Baltimore native showed the other starlets on hand exactly how to steal the spotlight.

The gorgeous former WWE Diva appears at a multitude of show biz shindigs, and seems to garner all the attention at most of them. Stacy Keibler is one tough person not to notice in a room!

CLICK HERE TO READ ALL ABOUT STACY KEIBLER VS STONE COLD STEVE AUSTIN ON NBC!

CLICK HERE FOR THE 50 BEST PHOTOS EVER TAKEN OF STACY KEIBLER!

We're HustleTweeting about Stacy right now, and you're more than welcome to join the conversation! Follow THE HEYMAN HUSTLE on Twitter HERE or write to us at hustleoncrave@gmail.com

Please also feel free to visit and subscribe (for free) to our Ultra High Quality YouTube Channel HERE, and join us on FACEBOOK or (for you old school social networkers) MySpace as well!

You can follow Stacy on Twitter, by the way, anytime. Imagine that. Direct access to Stacy's Twitter. Sounds like a fantasy come true, doesn't it? Check out Stacy's very own personal Twitter HERE
CLICK ON THE PICS BELOW TO SEE THE ENTIRE GALLERY
OF STACY KEIBLER AT A HOLLYWOOD SHOW BIZ EVENT!

THE HEYMAN HUSTLE'S VERY OWN TRAINED MONKEYS ARE PROUD
TO PRESENT THE TOP 15 STORIES OF THE DAY, ALL CONVENIENTLY
LINKED HERE FOR YOUR REVIEW. NO NEED TO SURF THE WEB, WE
DID ALL THE HARD WORK FOR YOU. JUST PICK A PIC AND CLICK!