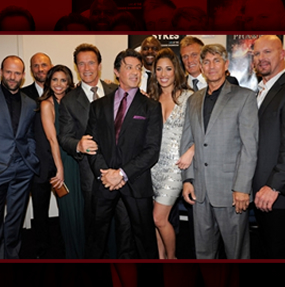 THE HEYMAN HUSTLE Presents Live Coverage From Planet Hollywood in Sin City!
It was the meeting of two of the most memorable characters in sports-adventure history. The Ultimate Bad Ass, Steve ("Forever Stone Cold") Austin and the man-beast who "killed Apollo Creed" Ivan Drago.

Can you just imagine Drago breathing down on Stone Cold, promising to destroy him and the American Way of Life, and Austin flipping the double-bird?

CLICK HERE TO SEE SYLVESTER STALLONE AND ARNOLD SCHWARTZENEGGER SHAKING HANDS ON THE RED CARPET JUST MOMENTS AGO!

CLICK HERE TO SEE UFC HALL OF FAMER (AND THE MAN WHO WILL FIGHT JAMES TONEY AT UFC 118) RANDY "THE NATURAL" COUTURE ARRIVE FOR THE SCREENING IN LAS VEGAS!

Steve Austin and Dolph Lundgren gave the paparazzi one helluva photo op as they got together on the red carpet at Planet Hollywood Las Vegas for the special screening of The Expendables in Sin City. Austin, who is a villain in the movie, has received widespread praise for his role in the film, as his movie career continues to register at the box office.

Don't miss Steve Austin on The Tonight Show with Jay Leno tonight at 11:30 eastern/pacific time (10:30 central, figure it out for yourself if you're in the mountain time zone). You can follow Steve Austin on Twitter HERE

We're HustleTweeting about Austin, Lundgren, Couture, Stallone, Schwartzenegger, and The Expendables right now, and you're more than welcome to join the conversation! Don't Trust Anyone be left out, let the world know your thoughts! Follow the Hustle on Twitter HERE
CLICK ON THE PICS BELOW TO SEE THE ENTIRE GALLERY
OF STEVE AUSTIN ON THE RED CARPET IN LAS VEGAS!

THE HEYMAN HUSTLE'S VERY OWN TRAINED MONKEYS ARE PROUD
TO PRESENT THE TOP 15 STORIES OF THE DAY, ALL CONVENIENTLY
LINKED HERE FOR YOUR REVIEW. NO NEED TO SURF THE WEB, WE
DID ALL THE HARD WORK FOR YOU. JUST PICK A PIC AND CLICK!