The Online War Heats Up As The Rattlesnake Takes Offense To The Straight Edge Superstar's Remarks!

Uh oh.
We may have started something.
Last week, THE HEYMAN HUSTLE posted a fantasy matchup between STONE COLD STEVE AUSTIN and CM Punk, who were opponents in the "2 Generations, 1 Ring" campaign launched by THQ's WWE All Stars Video Game.
CLICK HERE TO SEE AN AMAZING VIDEO OF THE FANTASY MATCHUP BETWEEN STONE COLD STEVE AUSTIN AND CM PUNK!
CLICK HERE FOR FREE WALLPAPERS OF THE AUSTIN VS PUNK FANTASY MATCHUP!
In a video released earlier today by THQ, Austin talks about "stomping a mud hole and walking it dry" against such WWE Legends as Hulk Hogan, SHAWN MICHAELS, THE ROCK, and JOHN CENA, but then goes off on an angry tangent about Punk.
Looks like we started something … that may just have to be settled … in the ring!
And that's the bottom line, cuz …
(Hey, just a quick note. We're HustleTweeting about Austin vs Punk. Won't you please join the conversation? Follow the Hustle on Twitter HERE, and we'll talk more about this. Thanks!)

STONE COLD STEVE AUSTIN SPEAKS HIS MIND ABOUT WWE ALL STARS!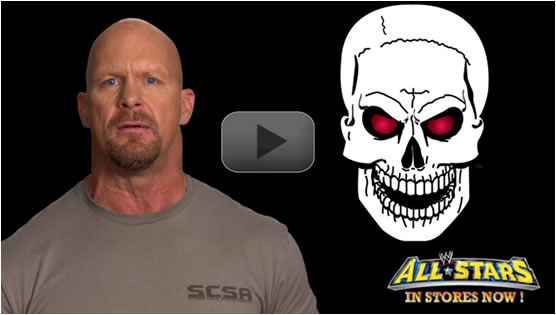 IT'S TIME FOR AN ALL NEW EDITION OF THE HOLLYWOOD CHARLIE
MEDIA WATCH, OUR DAILY TRAVEL ACROSS THE WORLD WIDE WEB.
OUR HIGHLY TRAINED MONKEYS HAVE PICKED OUT THE 15 WILDEST
STORIES FROM THE INTERNET FOR YOUR ASTUTE REVIEW. YOUR PART
IS VERY EASY. ALL YOU NEED TO DO IS PICK A PIC … AND CLICK!