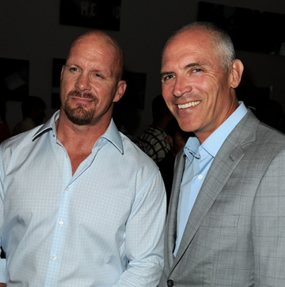 …And Gets a Stone Cold Endorsement From Lions Gate Motion Picture Group President Joe Drake!
Steve Austin attended the Lions Gate premiere for the new movie "The Last Exorcism" in Hollywood, which should come as no surprise since Lions Gate is reaping the benefits from the hottest film of the summer, "The Expendables."

CLICK HERE TO SEE PHOTOS OF STONE COLD VS ROCKY BALBOA!

CLICK HERE TO READ PAUL HEYMAN'S BLOG ON STEVE AUSTIN'S DINNER WITH BROCK LESNAR!

Perhaps most notable at the premiere was the fact Lions Gate Motion Picture Group President Joe Drake went out of his way to shake hands with Austin on the red carpet and be photographed with the man wrestling fans will refer to as Forever Stone Cold.

Austin has two more movies on his slate this year, as he continues to make in-roads in Hollywood and demonstrates his box office appeal and willingness to learn with each new project.

We're HustleTweeting about Steve Austin right now, and you're more than welcome to join the conversation. Follow THE HEYMAN HUSTLE on Twitter HERE and let the world know what you think!

You can also follow Steve Austin himself on Twitter HERE
CLICK ON THE PICS BELOW TO SEE THE ENTIRE GALLERY
OF STEVE AUSTIN AT THE PREMIERE OF "THE LAST EXORCISM"

THE HEYMAN HUSTLE'S VERY OWN TRAINED MONKEYS ARE PROUD
TO PRESENT THE TOP 15 STORIES OF THE DAY, ALL CONVENIENTLY
LINKED HERE FOR YOUR REVIEW. NO NEED TO SURF THE WEB, WE
DID ALL THE HARD WORK FOR YOU. JUST PICK A PIC AND CLICK!