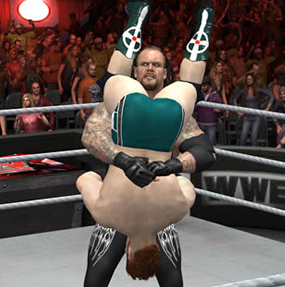 Rey Mysterio, HHH, The Undertaker, Bret "The Hitman" Hart, Sheamus …
As part of its major global promotion for the WWE Smackdown vs Raw 2011 video game, THQ has released a series of exclusive screenshots from the game, showing top WWE superstars in action. From Rey Mysterio diving off the top rope to The Undertaker's tombstone piledriver, it's all here. HHH hits the Pedigree, Bret Hart's legendary entrance pose … these 15 screenshots are your's to keep!

CLICK HERE FOR WWE SMACKDOWN VS RAW 2011'S "ROAD TO WRESTLEMANIA!"

CLICK HERE FOR CUSTOM BOX COVERS FOR THE THQ WWE SMACKDOWN vs RAW 2011 VIDEO GAME FOR Wii, PS3, and XBOX 360.

We're HustleTweeting on WWE Smackdown vs Raw 2011, and you're more than welcome to join the conversation. Follow THE HEYMAN HUSTLE on Twitter HERE or write to us at hustleoncrave@gmail.com
You can follow the game's awesome progress HERE
To start the THQ-WWE adventure, CLICK HERE
THQ has a great number of bonuses for video game fans, which you can access on their awesome Facebook page HERE. Be sure to check out the THQ-WWE website, with even more bonuses, special features, and game incentives HERE
CHECK OUT THE SCREEN SHOTS BELOW FOR MORE!

THE HEYMAN HUSTLE'S VERY OWN TRAINED MONKEYS ARE PROUD
TO PRESENT THE TOP 15 STORIES OF THE DAY, ALL CONVENIENTLY
LINKED HERE FOR YOUR REVIEW. NO NEED TO SURF THE WEB, WE
DID ALL THE HARD WORK FOR YOU. JUST PICK A PIC AND CLICK!