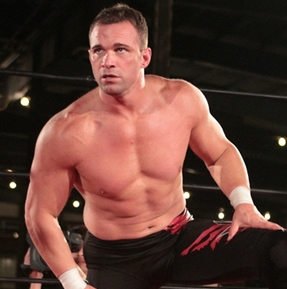 Famed Pro Wrestling Photographer George Tahinos Covers New Japan Pro Wrestling's Top Star Defending The World Championship In The Big Apple!

Hiroshi Tanahashi added even more prestige and honor to New Japan Pro Wrestling's top honor, the IWGP Heavyweight Championship, with his successful title defense against Charlie Haas at Basketball City in Midtown Manhattan, New York City.
Tanahashi scored the pinfall after an excellent strong style wrestling match at 18:50 with the High Fly Flow. Now in his fifth reign as IWGP Heavyweight Champion, Tanahashi is recognized as the premier pro wrestler in Japan, and combines old school Japanese, classic lucha libre, sensational American, and updated Japanese new strong styles.
Of course, we're HustleTweeting about Tanahashi vs Haas, and the New Japan Northeast Tour, and you're more than welcome to join the conversation by following THE HEYMAN HUSTLE on Twitter HERE or write to us at hustleoncrave@gmail.com
You can also subscribe (for FREE, cheapos, absolutely FREE) to our Ultra High Quality YouTube Channel HERE, and don't forget to check out our old school social networking skills by visiting us on Facebook HERE and even on MySpace HERE
CLICK ON THE PICS BELOW TO SEE OVER 50 EXCLUSIVE PHOTOS
OFHIROSHI TANAHASHI DEFENDING THE IWGP HEAVYWEIGHT
CHAMPIONSHIP AGAINST CHARLIE HAAS IN NEW YORK CITY!

IT'S TIME FOR AN ALL NEW EDITION OF THE HOLLYWOOD CHARLIE
MEDIA WATCH, OUR DAILY TRAVEL ACROSS THE WORLD WIDE WEB.
OUR HIGHLY TRAINED MONKEYS HAVE PICKED OUT THE 15 WILDEST
STORIES FROM THE INTERNET FOR YOUR ASTUTE REVIEW. YOUR PART
IS VERY EASY. ALL YOU NEED TO DO IS PICK A PIC … AND CLICK!