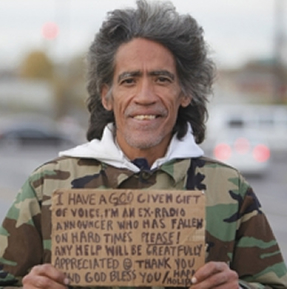 On the Streets As The Week Begins, The Panhandling Internet Sensation Can Now Call The N.B.A. His Home!
The Cleveland Cavaliers have successful navigated their way to last place in the NBA's Central Division with an awful record of 8-26, but they are the most talked-about team in basketball this afternoon!
As the entire Internet has been made aware, Ted Williams is not only the last man to hit .400 in Major League Baseball, it's the name of a Brooklyn, New York native who ended up homeless and panhandling on the streets of Columbus, Ohio.
Claiming he's alcohol and drug free for two and half years, Ted was taped by a reporter for the Columbus newspaper, and THE AMAZING VIDEO BECAME AN OVERNIGHT WORLD WIDE WEB SENSATION
Ladies and Gentlemen, Ted "The Golden Voice" Williams has been offered a job by the NBA's Cleveland Cavaliers and is being pursued by NFL Films for possible work.
No, we're not kidding.
"This has been totally, totally amazing," Williams said in a phone interview with The Associated Press on Wednesday, his voice choking with emotion. "I'm just so thankful. God has blessed me so deeply. I'm getting a second chance. Amazing."
Williams was contacted Wednesday by the Cavaliers, who have offered him a position that could include announcing work at Quicken Loans Arena, the team's downtown arena. Williams said the team has offered him a two-year contract and said they would pay his mortgage.
Nothing like some good pub for Quicken Loans, huh?
"I can't believe what's going on," said Williams, who says he is a father of nine, adding he feels like Susan Boyle, the English singing sensation who became an overnight star. "God gave me a million-dollar voice and I just hope I can do right by him."
Williams said he is flying to New York to see his 90-year-old mother, who lives in Brooklyn and has stood by him during his battles with addiction.
"She has always been my best friend," he told the AP, sobbing, "When I was a kid, she would take me down to Radio City Music Hall and on the subway. I'm just glad that she is still around. I prayed that she would live long enough that I could make her proud and see could her son do something other than stand along the side of the road with a sign asking for money."
Williams says his life began spiraling downward in 1996 when he started drinking heavily and fell into a life consumed by alcoholism. He used marijuana and cocaine and lost interest in his radio career. The articulate Brooklynite said his last job was with a station in Columbus. He eventually wound up on the streets, despite the best efforts of his seven daughters and two sons, all of whom live in the Columbus area.
"They have mixed emotions about what is going on," Williams said. "During my detox stages, I had a tendency to eat up everybody's food. I'm a grandfather, too, and I was eating what should have gone to their kids."
Our own Hustler De Tuti Hustlers Paul Heyman will be HustleTweeting about Ted Williams this afternoon, and you're more than welcome to join the conversation! Follow THE HEYMAN HUSTLE on Twitter HERE or write to us at hustleoncrave@gmail.com
You can also subscribe (for FREE, cheapos, absolutely FREE) to our Ultra High Quality YouTube Channel HERE, and don't forget to check out our old school social networking skills by visiting us on Facebook HERE and even on MySpace HERE

CLICK ON THE VIDEO BELOW TO SEE THE HUMAN INTEREST VIRAL VIDEO THAT KICKED OFF THE ENTIRE "TED WILLIAMS CRAZE!"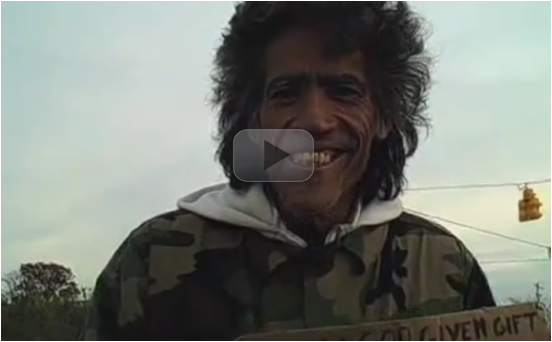 IT'S TIME FOR AN ALL NEW EDITION OF THE HOLLYWOOD CHARLIE
MEDIA WATCH, OUR DAILY TRAVEL ACROSS THE WORLD WIDE WEB.
OUR HIGHLY TRAINED MONKEYS HAVE PICKED OUT THE 15 WILDEST
STORIES FROM THE INTERNET FOR YOUR ASTUTE REVIEW. YOUR PART
IS VERY EASY. ALL YOU NEED TO DO IS PICK A PIC … AND CLICK!