A Devastating Loss To The World of Show Biz!
Gene Patton, forever known as Gene Gene The Dance Machine, the NBC stagehand in Burbank who stole the spotlight The Gong Show has passed away. The world sucks this evening. Gene died in Pasadena, according to a spokeswoman at the local Woods-Valentine Mortuary. He had suffered from diabetes.
The Gong Show, created and hosted by producer Chuck Barris (The Dating Game, The Newlywed Game), aired on NBC in daytime from 1976-78 and then in syndication. Amateur acts, most of them ranging from horrible to even worse, auditioned for three celebrity judges, who banged a gong on stage to be that generation's of "getting the hook."
At a random moment during the game show, Barris would introduce Gene, and the curtain would part, bringing the shuffling stagehand with the painter's cap onstage to the sounds of "Jumpin' at the Woodside," a jazz tune made popular by Count Basie. His dance sent everyone on the set, from Barris to the judges to the cameramen to the audience into an uncontrollable boogie. "One day, during rehearsal, I saw Gene dancing by himself in a dark corner. The huge stagehand never moved his feet; just his body from the waist up. He was terrific," Barris wrote in his 1984 memoir, Confessions of a Dangerous Mind.
Of course, with great sadness, we are HustleTweeting about Gene Gene The Dance Machine, and you're more than welcome to join the conversation by following the Hustle on Twitter HERE or write to us directly at hustleoncrave@gmail.com Hey, have you checked out the Hustle's Ultra High Quality You Tube Channel, with exclusive videos featuring OUR WORLD EXCLUSIVE WITH MIKE TYSON … BROCK LESNAR'S "HERE COMES THE PAIN" … ICE-T AND COCO's SEX SECRETS … MMA BAD BOY NICK DIAZ … the list goes on and on, so if you're not subscribing, you're missing something … and by the ways cheapos, it's FREE! Yes, absolutely 100 percent FREE! What are you waiting for? Check it out HERE!
By the way, we're also old school social networkers, so check out our interactive skills on Facebook HERE and even on MySpace HERE. If you're on Friendster, GFY … and have a pleasant tomorrow!

GENE … GENE … THE DANCE MACHINE!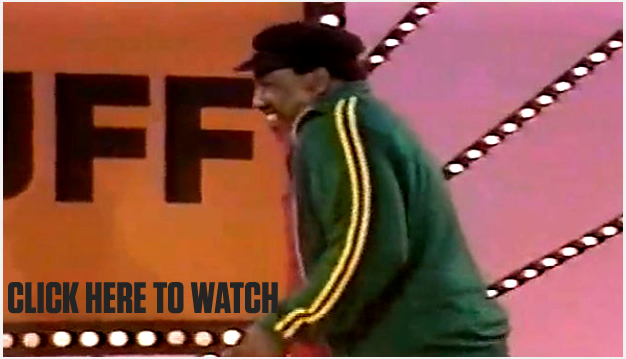 WE HERE AT THE HEYMAN HUSTLE HAVE ENSLAVED HIGHLY TRAINED
MONKEYS TO IGNORE THE FACT THEY ARE OVERWORKED AND UNDERPAID,
ALL IN THE NAME OF SCOURING THE WORLD WIDE WEB TO FIND THE FIFTEEN
MOST PROVOCATIVE STORIES ON THE INTERNET. ALL FOR YOU. NO ONE ELSE
BUT YOU. JUST YOU. AND ALL YOU NEED TO DO IS PICK WHICH PIC TO CLICK!