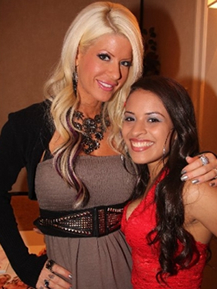 The TNA Knockouts Tag Team Champion Is Muy Caliente!
TNA Knockouts Champion Rosita posed for an exclusive photo session with famed pro wrestling photographer Bob Mulrenin, and the TNA Knockouts Tag Team Champion was joined by fellow Knockout ANGELINA LOVE for some pics as well!
"This was the 1st chance I've had to work with Rosita," reported Mulrenin, "and she was a pleasure to work with. I hope to get her in front of my lens a lot more often in the future!"
So do we, Bob, so do we!
We're HustleTweeting about Rosita, and you're more than welcome to join the conversation! Follow THE HEYMAN HUSTLE on Twitter HERE or write to us at hustleoncrave@gmail.com
You can also subscribe (for FREE, cheapos, absolutely FREE) to our Ultra High Quality YouTube Channel HERE, and don't forget to check out our old school social networking skills by visiting us on Facebook HERE and even on MySpace HERE
CLICK ON THE PICS BELOW TO SEE THE ENTIRE GALLERY OF
TNA KNOCKOUT ROSITA AND SPECIAL GUEST ANGELINA LOVE!

IT'S TIME FOR AN ALL NEW EDITION OF THE HOLLYWOOD CHARLIE
MEDIA WATCH, OUR DAILY TRAVEL ACROSS THE WORLD WIDE WEB.
OUR HIGHLY TRAINED MONKEYS HAVE PICKED OUT THE 15 WILDEST
STORIES FROM THE INTERNET FOR YOUR ASTUTE REVIEW. YOUR PART
IS VERY EASY. ALL YOU NEED TO DO IS PICK A PIC … AND CLICK!