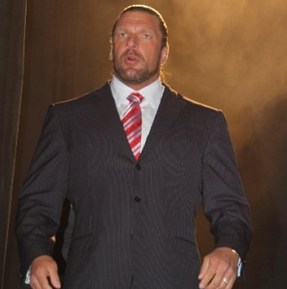 Opie and Anthony's Sam Roberts Goes To The WrestleMania XXVII Press Conference … and Captures A Truly Classic Moment on Video!
WWE Chairman Vince McMahon's son-in-law Triple H was –pardon the pun– on his Game during the WrestleMania XXVII press conference at The Hard Rock Cafe in New York City, but even the Cerebral Assassin was unprepared for the question O&A's Sam Roberts threw at him.
We have that video, along with exclusive photos taken by both veteran photographer Bob Mulrenin and THE HEYMAN HUSTLE's very own Hollywood Charlie. All we want to know is, what's the haps?
We're HustleTweeting about HHH, Sam Roberts' interviews, and –of course– the haps, and you're more than welcome to join the conversation! Follow The Hustle on Twitter HERE or write to us at hustleoncrave@gmail.com
You can also subscribe (for FREE, cheapos, absolutely FREE) to our Ultra High Quality YouTube Channel HERE, and don't forget to check out our old school social networking skills by visiting us on Facebook HERE and even on MySpace HERE
CLICK ON THE PICS BELOW TO SEE THE ENTIRE EXCLUSIVE GALLERY
FEATURING TRIPLE H AT THE WRESTLEMANIA XXVII PRESS CONFERENCE!

SAM ROBERTS WANTS TO KNOW "WHAT'S THE HAPS?"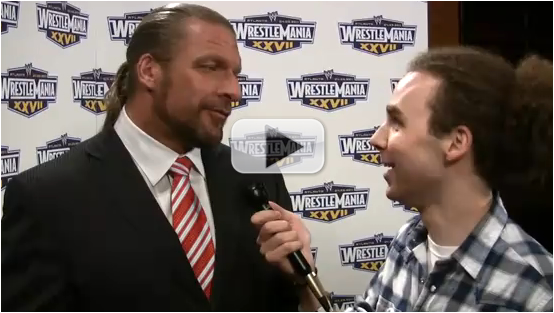 IT'S TIME FOR AN ALL NEW EDITION OF THE HOLLYWOOD CHARLIE
MEDIA WATCH, OUR DAILY TRAVEL ACROSS THE WORLD WIDE WEB.
OUR HIGHLY TRAINED MONKEYS HAVE PICKED OUT THE 15 WILDEST
STORIES FROM THE INTERNET FOR YOUR ASTUTE REVIEW. YOUR PART
IS VERY EASY. ALL YOU NEED TO DO IS PICK A PIC … AND CLICK!