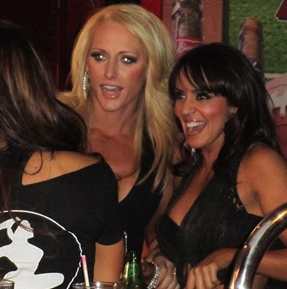 Warning: Contains Spoilers For Next Week's WWE Monday Night Raw!
World Wrestling Entertainment shot a major angle yesterday at Miami Mike's Sports Zone in East Hanover, New Jersey, with Jersey Shore's Snooki, Trish Stratus, and LayCool. The incident is set to air on USA Network next week on WWE Monday Night Raw.
In the skit, LayCool shows up looking for Snooki and Trish. The wild vignette has Snooki getting into a fight with a "guido," and then a full fledged bar brawl with LayCool, which also involves Trish Stratus as well.
According to Tommy Fierro of the inside-pro-wrestling-website POP THE CROWD,the segment was originally slated to begin shooting at 10am Eastern Time, but Snooki didn't leave her room until 1pm.
The cameras didn't start rolling until 3pm, and the shoot lasted 5 hours. WWE Producer/Agent Fit Finlay handled the action, with writing staff member David Kapoor on hand for scripting purposes.
It is also being reported that Snooki was said to have been drinking heavily during the entire day and was rude to people, including the owner who she called a "weirdo" before leaving. She said she was leaving to go bowling after the segment was finished taping and would return later for more drinks.
It has also been reported Snooki told the bartender she was going to be a full-time WWE Diva after Jersey Shore is finished.
We're HustleTweeting about Snooki's Bar Room Brawl, and you're more than welcome to join the conversation. Follow The Hustle on Twitter HERE or write to us at hustleoncrave@gmail.com
You can also subscribe (for FREE, cheapos, absolutely FREE) to our Ultra High Quality YouTube Channel HERE, and don't forget to check out our old school social networking skills by visiting us on Facebook HERE and even on MySpace HERE
CLICK ON THE PICS BELOW TO SEE THE ENTIRE EXCLUSIVE GALLERY
FEATURING BEHIND THE SCENES PHOTOS OF THE BAR ROOM BRAWL!

IT'S TIME FOR AN ALL NEW EDITION OF THE HOLLYWOOD CHARLIE
MEDIA WATCH, OUR DAILY TRAVEL ACROSS THE WORLD WIDE WEB.
OUR HIGHLY TRAINED MONKEYS HAVE PICKED OUT THE 15 WILDEST
STORIES FROM THE INTERNET FOR YOUR ASTUTE REVIEW. YOUR PART
IS VERY EASY. ALL YOU NEED TO DO IS PICK A PIC … AND CLICK!