Can The Trash Talking Middleweight Dethrone The Most Dominant Champion in MMA?
UFC 117's main event this Saturday night pits the man UFC President Dana White calls "the best pound for pound fighter in the sport" Anderson Silva defending his Middleweight Championship against the single best trash talker UFC has seen in a long time, Chael Sonnen.
Sonnen's barrage of insults against Silva, his trainers the Nogueira Brothers, Silva's Brazilian Jiu Jitsu black belt, and really anything to do with Silva continued on ESPN today, as SportsCenter ushered in the hype for UFC 117.
"I gave Anderson Silva every option to pull out of this fight," Sonnen stated this morning on televison, "The deadline was last Sunday, he did not meet it and now we're gonna go to war.
Sonnen continued that Silva is "in over his head. He knows it and I know it."
In a rare moment of hype-without-hyping-it, Sonnen admitted "We're the best guys on the planet, and to act as though either one of us has a weakness in any area would just be silly. This is going to come down to who's tougher not who's better. In 25 minutes, we're both gonna be tired, we're both gonna be hurt. One of us is gonna stay in there to be the World Champion."
Sonnen challenges Anderson Silva at the Oracle Arena in Oakland, California this Saturday night at UFC 117. We're HustleTweeting about the fight right now, and you're more than welcome to join the conversation. Don't be left out, let us know your opinion. Follow THE HEYMAN HUSTLE on Twitter HERE and let the world know what you think!

CHAEL SONNEN IS "THE MOST INTERESTING MAN ALIVE!"
DON'T BELIEVE US? BELIEVE THE HYPE! CLICK BELOW!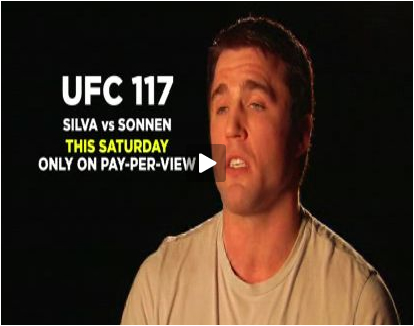 THE HEYMAN HUSTLE'S VERY OWN TRAINED MONKEYS ARE PROUD
TO PRESENT THE TOP 15 STORIES OF THE DAY, ALL CONVENIENTLY
LINKED HERE FOR YOUR REVIEW. NO NEED TO SURF THE WEB, WE
DID ALL THE HARD WORK FOR YOU. JUST PICK A PIC AND CLICK!