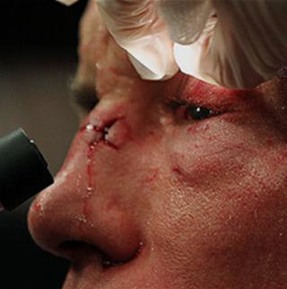 The UFC Welterweight Champion is Out of The Hospital, But There is Still Concern Over His Eye!

UFC Welterweight Champion Georges St-Pierre has updated his legion of fans on the condition of his left eye after being taken to the hospital following UFC 129.
"Hey guys just want to say that I am ok," GSP informed his fan base via HIS OFFICIAL TWITTER PAGE, adding, "I'll need to see a doctor in the next days! Yesterday I was told it was not a retina problem. I am so lucky my BJJ instructor Bruno Fernandes is an ophtamologist!!! I'll be in good hands!!!"
Over 55,000 fans packed the Rogers Centre in Toronto to witness GSP score his ninth consecutive victory with a 50-45, 48-47, 48-47 unanimous decision victory over former Strikeforce Middleweight Champion Jake Shields. The five-round contest saw GSP get bloodied up, but he was never in any real danger at any point during the fight.
Of course, we're HustleTweeting about UFC 129, GSP, and anything else you'd like to talk about, so please feel free to join the conversation by following the Hustle on Twitter HERE or write to us directly at hustleoncrave@gmail.com
You can also subscribe (for FREE, cheapos, absolutely FREE) to our Ultra High Quality YouTube Channel HERE, and don't forget to check out our old school social networking skills by visiting us on Facebook HERE and even on MySpace HERE

IT'S TIME FOR AN ALL NEW EDITION OF THE HOLLYWOOD CHARLIE
MEDIA WATCH, OUR DAILY TRAVEL ACROSS THE WORLD WIDE WEB.
OUR HIGHLY TRAINED MONKEYS HAVE PICKED OUT THE 15 WILDEST
STORIES FROM THE INTERNET FOR YOUR ASTUTE REVIEW. YOUR PART
IS VERY EASY. ALL YOU NEED TO DO IS PICK A PIC … AND CLICK!