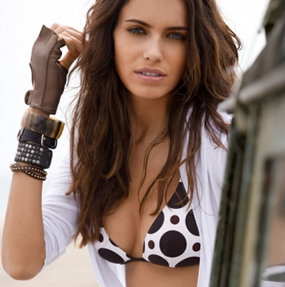 The Next Great Super Model From Brazil Struts Her Stuff!
Ah, Brazil.

How do we love thee, let us count the ways!

First, we love you for ADRIANA LIMA!

Secondly, we love you for ALESSANDRA AMBROSIO!

We love you for Hustle Hottie SASCKYA PORTO, and her almost-too-tempting photos with the former Mistress of the Playboy Mansion, HOLLY MADISON!

We love you for FERNANDA MELLO (and if you check out her pics, you'll love both Brazil and Fernanda, too)!

We love you for GISELE BUNDCHEN!

And now, we love you for Amanda Brandao. If you're not quite following the program here, check out the photos, and you'll understand why.

We're HustleTweeting about Amanda, Adriana Lima, Alessandra Ambrosio, those Sasckya-Holly pics, and so much more. Join the conversation already, will ya? Follow THE HEYMAN HUSTLE on Twitter HERE or write to us at hustleoncrave@gmail.com
CLICK ON THE PICS BELOW TO SEE THE ENTIRE GALLERY
FEATURING THE BEST OF AMANDA BRANDAO!

THE HEYMAN HUSTLE'S VERY OWN TRAINED MONKEYS ARE PROUD
TO PRESENT THE TOP 15 STORIES OF THE DAY, ALL CONVENIENTLY
LINKED HERE FOR YOUR REVIEW. NO NEED TO SURF THE WEB, WE
DID ALL THE HARD WORK FOR YOU. JUST PICK A PIC AND CLICK!