Some things just defy description. This is clearly one of those circumstances.

It was announced over the weekend that "The Angry Grandpa" was going to release a new DVD featuring a series of never-before-seen episodes. These are the controversial videos that MTV and TruTV found to be too wild for their networks.
So down home deep in the southern end of the trailer park, the Casa De Hostility was getting prepared for some media interviews when Grandpa had a fit looking for his cheese.

That's not a misprint. His cheese.

"The man went stark raving crazy," Grandpa's relative (we really can't figure out if he's son, grandson, nephew, or some odd combination) Junior told THE HEYMAN HUSTLE exclusively on the phone, "he wanted to eat this cheese before he did interviews to promote his DVD, and when he thought someone ate a bite of his cheese, he pretty much lost his blessed mind!"

So, here's Episode Seven of THE HEYMAN HUSTLE's exclusive "Angry Grandpa Show." In case you're enticed to sample the DVD, check in with Grandpa himself HERE.
CHECK OUT THE VIDEO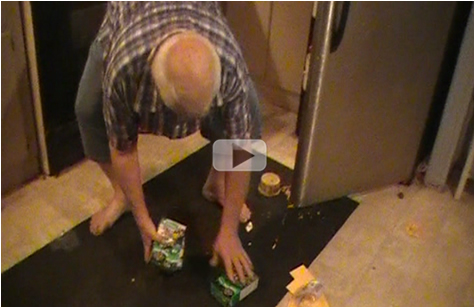 ---
THE HEYMAN HUSTLE IS PLEASED TO PRESENT THE
15 WILDEST, CRAZIEST, MOST EXTREME (SORRY, WE
HAD TO THROW THAT IN THERE) STORIES THAT HIT
THE WEB OVER THE WEEKEND. NO NEED TO SURF
THE NET, WE'VE DONE THE WORK FOR YOU. ALL
YOU NEED TO DO IS PICK A PICK … AND CLICK!