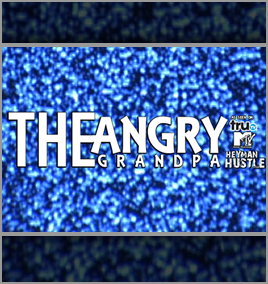 This week's episode of The Angry Grandpa Show almost didn't happen, explains our correspondent-on-the-scene Junior, who is either Grandpa's son, nephew, or grandson, depending on the day.
"That ornery old bastard just came runnin' at me, screamin' and hollarin', as soon as I done pick up the video camera to shoot the show," Junior told us on the phone this evening, "then he noticed that some of the youngins had left two small holes in the wall from some sorta Sunday get together. Well that's when he went even crazier. The man was just totally out of control!"

The cameras rolled, and Grandpa didn't disappoint.
EPISODE 4 OF THE ANGRY GRANDPA SHOW
DEBUTS IN 5 … 4 … 3 … 2 … 1 … (CLICK BELOW)!

---
THE HEYMAN HUSTLE IS PROUD TO PRESENT
THE HOLLYWOOD CHARLIE MEDIA WATCH FOR
THE FIRST DAY OF FEBRUARY, TWENTY TEN.
WOW! WE'RE ALREADY ONE WHOLE MONTH
INTO 2010! TIME TO PICK A PIC … AND CLICK!