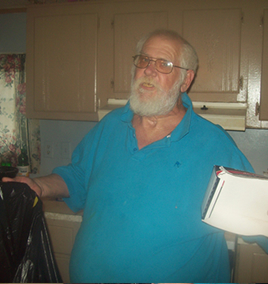 The Angry Grandpa's garbage got raided by some animals, and we ain't talking about his sister's good-for-nothing kids. Some wildlife made a mess of The Angry Grandpa's trash, and when Grandpa attempted to start cleaning up the disaster area, our man-on-the-spot "Junior" grabbed his video camera and started recording. "Grandpa wasn't too happy about the trash being all over his yard," Junior said on the phone this morning, "but when he saw the video camera, he kicked it into high gear." Life in the double wide, it seems, is never boring!
Angry Grandpa on Myspace: CLICK HERE
CHECK OUT THE VIDEO
---
THE HEYMAN HUSTLE IS PROUD TO PRESENT TODAY'S BRAND NEW
EDITION OF THE HOLLYWOOD CHARLIE MEDIA WATCH, FEATURING
THE 15 BEST STORIES FROM THE WORLD WIDE WEB. NO NEED TO
SURF AND SEARCH, OUR TRAINED MONKEYS HAVE DONE THAT
FOR YOU. ALL YOU NEED TO DO IS PICK A PIC AND CLICK!