GRANDPA AIN'T GOT NO MONEY … AND HE'S FIXIN' TO BE PLENTY PISSED ABOUT THEM HOT DOGS BEING COOKED UP, TOO!
Episode 10 of The Angry Grandpa Show finds our favorite hostile patriarch celebrating Memorial Day 2010. If life were only that easy.

Junior's video camera picks up Grandpa mid-argument with a family member cooking up some hot dogs, and Grandpa realizes there are no other hot dogs in the house. Of course, the strong willed Father of Many (and Grandfather of Even More) uses diplomacy, psychology, love, compassion, and understanding to make his point, doesn't he?
Not in your cotton-pickin' lifetime!
"Grandpa just hates holidays, especially ones where he has to do something like have people over for a cookout, because it just reminds him how broke he is!" Junior told THE HEYMAN HUSTLE, "but this time, his actions backfired on him. Damn, that water was scalding hot!"
To see all the insanity, click on the video below, and don't forget to check out Grandpa for yourself HERE.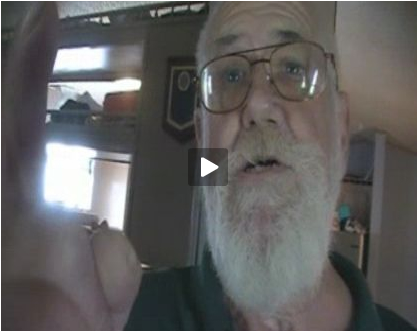 THE HOLLYWOOD CHARLIE MEDIA WATCH IS PRESENTED TODAY
IN HARDCORE HUSTLEVISION, SERVING YOUR EXTREME WEB
NEEDS SINCE 2009. WOW. THAT'S A LOT OF EXPERIENCE, ISN'T
IT? IT ISN'T? DAMN. OK, GIVE US A BREAK. COME ON, OUR TEAM
OF HIGHLY TRAINED MONKEYS WORKED HARD ON THIS. IT'S NOT
LIKE YOUR PART IS ALL THAT HARD. JUST PICK A PIC AND CLICK!