It May Not Be The End of the World … OR IS IT?!?
We here at THE HEYMAN HUSTLE have come to the conclusion that The Angry Grandpa has one F'd up family! The pissed-off-patriarch from the deep south is constantly being filmed by his You Tube obsessed offspring, who keep finding different ways to torment the high strung old geezer.
CLICK HERE TO FOLLOW THE ANGRY GRANDPA ON TWITTER!
This week, Grandpa's family decided to play a prank on him about The Mayan Apocalypse. In the middle of the night. While the poor ol' bastard was sleeping. Without his teeth. Hilarity ensues.
Of course, we're HustleTweeting about The Angry Grandpa, and you're more than welcome to join the uproarious conversation by join the conversation by following us on twitter HERE or write us directly at hustleoncrave@gmail.com Hey, have you checked out the Hustle's Ultra High Quality You Tube Channel, with exclusive videos featuring OUR WORLD EXCLUSIVE WITH MIKE TYSON … BROCK LESNAR'S "HERE COMES THE PAIN" … ICE-T AND COCO's SEX SECRETS … TEEN SENSATION TAYLOR MOMSEN … UFC BAD BOY NICK DIAZ … THE WALKING RIOT MISSY HYATT if you're not subscribing, you're missing something … and by the ways cheapos, it's FREE! Yes, absolutely 100 percent FREE! What are you waiting for? Check it out HERE!
By the way, we're also old school social networkers, so check out our interactive skills on Facebook HERE and even on MySpace HERE. If you're on Friendster, GFY … and have a pleasant tomorrow!
THE ANGRY GRANDPA VS THE MAYAN APOCALYPSE!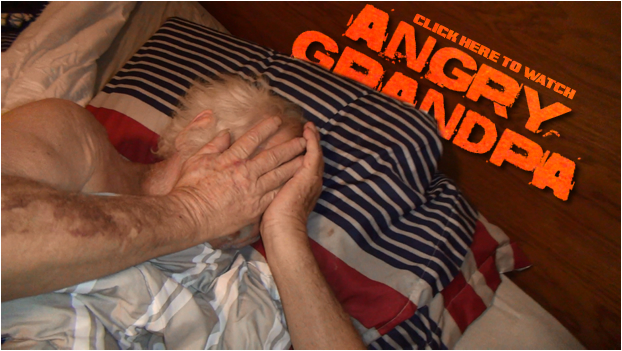 WE HERE AT THE HEYMAN HUSTLE HAVE ENSLAVED HIGHLY TRAINED
MONKEYS TO IGNORE THE FACT THEY ARE OVERWORKED AND UNDERPAID,
ALL IN THE NAME OF SCOURING THE WORLD WIDE WEB TO FIND THE FIFTEEN
MOST PROVOCATIVE STORIES ON THE INTERNET. ALL FOR YOU. NO ONE ELSE
BUT YOU. JUST YOU. AND ALL YOU NEED TO DO IS PICK WHICH PIC TO CLICK!