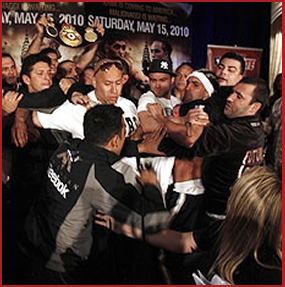 Reporting Live From The Essex House in New York City — A huge brawl broke out during the Malignaggi-Khan weigh-ins, just hours after THE HEYMAN HUSTLE exclusively posted details on the promoters desperation to sell the remainder of tickets for the 5,000 seat Wamu Theatre, adjacent to the more famous Arena at Madison Square Garden in New York City.
CLICK HERE TO READ LAST NIGHT'S EXCLUSIVE REPORT ABOUT PROMOTERS SCRAMBLING TO SELL TICKETS TO THE EVENT!

Of course, this begs the question, "was the brawl a setup or was it real?"

At this moment, it's tough to answer that question.

The two went face to face and started pressing foreheads.

It was a very chaotic scene. WBA Light Welterweight Champion Khan was dragged away by his throat after theboxers were caught in a huge bust-up.
And Malignaggi's promoter Lou DiBella raged: "Did you see this shit My guy got roughed up. If there is one more incident of this kind, he won't be fighting on Saturday night. That's a promise.
"This was not supposed to happen. The weigh-in was closed to the public yet Khan had so many people there shouting and screaming."
Around 50 Khan supporters were on hand during the weigh-ins.
When Khan and Malignaggi tried to push each other back after they deliberately touched foreheads and aimed verbal abuse at one another.
Suddenly the violence exploded as it descended into a mass brawl with Khan fans trying to get invllved before they were forced back.
Anthony Cantanzaro, Malignaggi's representative, fumed: "Khan's people came in and started fighting on the stage."
Khan's manager Vali, shocked at the way the mood turned so ugly so quickly, could not explain what had caused the fracas.
He said: "After all the trash talking he's done…I did say that Amir would be bringing a lot of support and as far as we were concerned the weigh-in was open to the public. Rhey now know that Amir has plenty of support over here."
Amir's coach, the legendary Freddie Roach gave a statement. "A lot of people rushed the stage. I got Amir, I took him down to the back of the stage and protected my fighter. I have no idea what went on after that. AlI know is that a lot of people rushed the stage. But I got Amir off to the side, and that's all that I was concerned with was Amir."
"But if the (New York State Athletic Commission) doesn't want that to happen, don't pose the fighters," said Roach, who is also Manny Pacquaio's trainer, "because if you're going to pose two fighters together this close to a fight with this kind of intensity, that's going to happen 95 percent of the time because these two guys are on the edge."
Khan and his father, Shah, were immediately swiftly swept from the scene and were not immediately available for comment. The fight airs tomorrow (Saturday night) live on HBO.
CLICK ON THE PHOTOS BELOW TO SEE THE ENTIRE
GALLERY FOR THE MALIGNAGGI-KHAN WEIGH-INS BRAWL!
---
THE HEYMAN HUSTLE IS PROUD AND PLEASED TO PRESENT
THE HOLLYWOOD CHARLIE MEDIA WATCH, FEATURING THE
FIFTEEN BEST STORIES OF THE DAY FROM THE WORLD WIDE
WEB. ALL HERE, CONVENIENTLY CHOSEN FOR YOUR REVIEW
BY OUR HIGHLY REGARDED STAFF OF TRAINED MONKEYS.
YOUR PART, WE DARE SAY, IS EASY. JUST PICK A PIC AND CLICK!