…and The Baddest Dude on the Planet has a personal invitation for you to read his autobiography!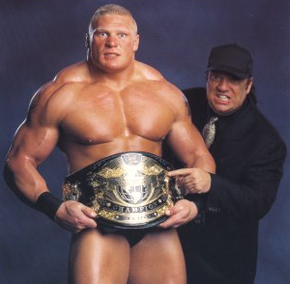 …and The Baddest Dude on the Planet has a personal invitation for you to read his autobiography!
It's Tuesday, May 24, 2011.
Brock Lesnar's DeathClutch, co-written by our own Hustler De Tuti Hustlers Paul Heyman hits the book stores today! Brock is the only man to ever hold the NCAA Division I Heavyweight Championship, the Undisputed WWE Heavyweight Championship, and the UFC Heavyweight Championship of the World.
There has been a lot written about me over the years, and I have managed to ignore most of it. I don't watch much TV. I don't spend any time on the Internet. I don't read the fan magazines. And I don't listen to gossip.
But even though I do my best to stay away from all the hype, people are always coming up and asking the latest rumor some jackass started about me. I can't stay away from it. It's everywhere.

People want to know what really happened, the story of my life as I've lived it.

The bottom line: I don't talk about my personal life with strangers. This one time, and this one time only, you are invited to join me in my private world for a few hours. Just don't ever expect another invitation.
— Brock Lesnar

You can pick up DeathClutch in bookstores around the United States now, or you can order the book through the trusted online source Amazon HERE!
Of course, we're HustleTweeting about Brock Lesnar's DeathClutch, and you're more than welcome to join the conversation by following THE HEYMAN HUSTLE on Twitter HERE or write to us at hustleoncrave@gmail.com
You can also subscribe (for FREE, cheapos, absolutely FREE) to our Ultra High Quality YouTube Channel HERE, and don't forget to check out our old school social networking skills by visiting us on Facebook HERE and even on MySpace HERE

IT'S TIME FOR AN ALL NEW EDITION OF THE HOLLYWOOD CHARLIE
MEDIA WATCH, OUR DAILY TRAVEL ACROSS THE WORLD WIDE WEB.
OUR HIGHLY TRAINED MONKEYS HAVE PICKED OUT THE 15 WILDEST
STORIES FROM THE INTERNET FOR YOUR ASTUTE REVIEW. YOUR PART
IS VERY EASY. ALL YOU NEED TO DO IS PICK A PIC … AND CLICK!