#PaulHeymanGuy Curtis Axel stepped into the ring with CM Punk … and the bloody aftermath has even the most hardcore viewers of WWE Monday Night RAW in a state of shock!
In Philadelphia, PAUL HEYMAN BETRAYED CM PUNK which set up the most violent encounter the next night when HEYMAN AND PUNK COLLIDED ON THE MIC IN BROOKLYN BEFORE BROCK LESNAR F5'd PUNK ONTO THE ANNOUNCE TABLE! This led to last week on RAW, when PUNK ATTACKED CURTIS AXEL AND ALMOST GOT HIS HANDS ON PAUL HEYMAN! This all leads to Green Bay, and the brutal attack orchestrated by our very own Hustler De Tuti Hustlers against his former best friend in the world.
According to WWE.com:
Curtis Axel has proven a thorn in CM Punk's side for some weeks now, but the long-gestating bout between the Paul Heyman defector and his wunderkind replacement devolved into catastrophe when a beastly interloper decided to get himself involved. Driven by unbridled rage, Punk seemed intent on decimating both Heyman and his acolyte, targeting the mad scientist before the bout even started and attempting to hobble Axel when the contest finally got going.
Despite a strong showing from the Intercontinental Champion and a reappearance by Heyman that robbed Punk of his focus, The Straight Edge Superstar had the Perfect progeny dead to rights … until Brock Lesnar appeared to menace his SummerSlam opponent. For all the fearlessness of the former WWE Champion (Punk even took Brock down for a moment), The Anomaly still submitted Punk to a beating that went very much the same way as the first … right down to The Second City Saint's refusal to stay down against his monstrous opponent, until a series of chair strikes and an F-5 forced him to do so.
As if that weren't enough, Heyman had a final challenge to his former friend after the match: a one-on-one fight next week on Raw. And guess what? Punk said yes..
Of course, we're HustleTweeting about #TheBestVsTheBeast, and you're more than welcome to join us by following us on twitter HERE or write us directly at hustleoncrave@gmail.com Hey, have you checked out the Hustle's Ultra High Quality You Tube Channel, with exclusive videos featuring OUR WORLD EXCLUSIVE WITH MIKE TYSON … BROCK LESNAR'S "HERE COMES THE PAIN" … ICE-T AND COCO's SEX SECRETS … TEEN SENSATION TAYLOR MOMSEN … UFC BAD BOY NICK DIAZ … THE WALKING RIOT MISSY HYATT if you're not subscribing, you're missing something … and by the ways cheapos, it's FREE! Yes, absolutely 100 percent FREE! What are you waiting for? Check it out HERE!
CLICK ON THE PICS BELOW TO SEE THE ENTIRE OFFICIAL WWE
PHOTO GALLERY FEATURING BROCK LESNAR'S ATTACK ON CM PUNK!

WARNING: THE VIDEO BELOW IS OF A GRAPHIC NATURE!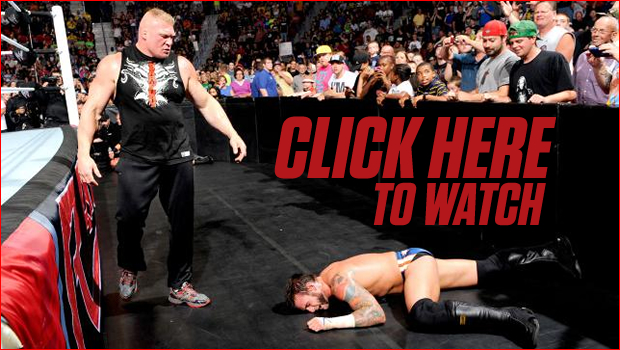 WE HERE AT THE HEYMAN HUSTLE HAVE ENSLAVED HIGHLY TRAINED
MONKEYS TO IGNORE THE FACT THEY ARE OVERWORKED AND UNDERPAID,
ALL IN THE NAME OF SCOURING THE WORLD WIDE WEB TO FIND THE FIFTEEN
MOST PROVOCATIVE STORIES ON THE INTERNET. ALL FOR YOU. NO ONE ELSE
BUT YOU. JUST YOU. AND ALL YOU NEED TO DO IS PICK WHICH PIC TO CLICK!