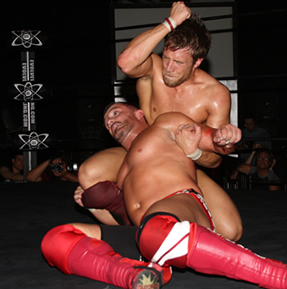 Most MMA fans will laugh off pro wrestling. Sports Entertainers just aren't "real" in their minds. This past weekend, 250 fans jam packed The ACE Arena in Union City, NJ to witness Bryan Danielson vs. Bobby Fish for EVOLVE. That told me people are looking for realism in pro wrestling. In fact, after booking thousands of matches over the years, I almost ran to ringside and threw in the towel on this main event. No hype. No hustle. That's a true statement.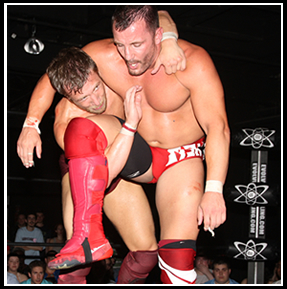 First, let's start with the best kept secret in independent wrestling- The ACE Arena. Mike Morgan has done an incredible job of taking a tiny room on the second floor of an obscure building on a street that can better be described as an alleyway and turning it into a fight club specifically for pro wrestling. He hand made bleachers, painted the walls black himself, installed a sound system, constructed an entrance way and added permanent light fixtures above the ring. When I walked into the building, located just two minutes from the Lincoln Tunnel, I felt like I did when I first entered CBGBs almost 20 years ago. This was the ECW Arena in 1994, only more intimate and not in need of immediate renovations. It was the perfect venue to provide the atmosphere for the brutally realistic Danielson vs. Fish fight.

Danielson, the former Daniel Bryan, immediately proved why Vince McMahon felt he was a little too "real" and "violent" for the PG rated WWE. This wasn't your typical formulaic, paint-by-the-numbers, sports entertainment exhibition. Both Danielson and Fish approached the match with a fierce intensity. This was two action sport athletes using their hybrid pro wrestling and MMA training to make the red hot crowd forget the words fake, phoney and sports entertainment.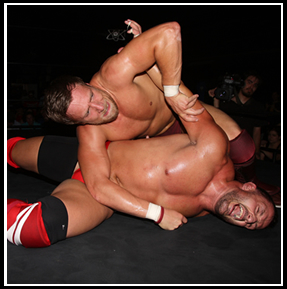 In fact, I was worried that Danielson might have been too much for Fish. Everytime Fish tried a strike or submission, Danielson had a counter ready. It got to the point that Fish's thigh turned bright red due to Danielson's array of counter kicks. Fish is a survivor though. Nothing has come easy for him. He currently juggles his wrestling career, including overseas tours with Pro Wrestling NOAH, with a budding MMA career, which has seen Fish go 1-0. At the same time, he is raising his two children, ages 5 and 6, and watching over his widowed mother and troubled brother. Fish has always been driven by the legacy of his father, a marine who served in the Korean war before a career as a fireman, who passed in 2006.

Fish showed his determination by absorbing the kicks and surviving Danielson's arsenal of stretches. He even overcame a split open elbow to pull some tricks out of his MMA playbook and teach Bryan a lesson or two. However, in the end, Danielson backed up his "Best In The World" moniker. For me, the end could have come when Danielson unleashed a series of elbows to Fish's head. I began to lean forward as I waited for the referee to call it. It wasn't the planned finish though. Fish faded with each passing elbow. I thought it had to end. I began to inch towards the ring. This couldn't continue.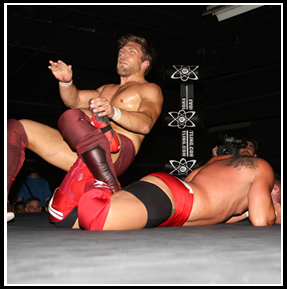 The thought of telling the ref to ring the bell entered my head, but then the assault ended. They had successfully sucked me into this athletic display of combat. Shortly after, Danielson took the win.

The crowd in the ACE Arena exploded with their hero's victory. Danielson had successfully returned to independent wrestling. He closed with a heartfelt speech thanking the fans, before issuing a challenge to one of Japan's greatest fighters- Munenori Sawa. He is perhaps the only man that can match Bryan when it comes to this combat influenced style of pro wrestling. The bout is now signed for the next EVOLVE event, on September 11th in Rahway, NJ at the Rahway Rec Center for a special afternoon card (go to www.EVOLVEwrestling.com for info). Fish is a rising star in this industry. He proved it on July 23rd. Sawa is a superstar in Japan. Danielson will meet his equal in Rahway. Realism is back in pro wrestling.

THE HEYMAN HUSTLE'S VERY OWN TRAINED MONKEYS ARE PROUD
TO PRESENT THE TOP 15 STORIES OF THE DAY, ALL CONVENIENTLY
LINKED HERE FOR YOUR REVIEW. NO NEED TO SURF THE WEB, WE
DID ALL THE HARD WORK FOR YOU. JUST PICK A PIC AND CLICK!