HUSTLE EXCLUSIVE!
I've only been to the Toronto area a handful of times, but each time has been very special and holds a great memory for me. I plan to add to those special moments this Friday when EVOLVE holds its first card in Toronto tonight, April 13th.
CLICK HERE FOR www.DGUSA.tv FOR ALL THE INFORMATION YOU NEED TO ATTEND THE EVENT LIVE OR WATCH ON iPPV!
My first trip to Toronto blew me away. It was September 2000 and Extreme Championship Wrestling finally presented an event in that historic area. I'll go as far as to call this one of the most underrated nights in ECW history. You see, people tend to reminisce about ECW in Philly at the Arena, New York City or Chicago. However, that night in Toronto was something special.
It was one of three ECW shows to draw in the 7000 crowd range (alongside shows in Chicago and Los Angeles). I'll never forget a moment after the opening match when I sat down for a minute at ringside to take a quick break from filming on the Fan Cam. I looked around at this major arena, filled with thousands of ECW fans. It was amazing. I thought back to the night Sabu made his debut in 1993 in front of maybe 100 people and now ECW was in a packed stadium type building with thousands of rabid fans.
I made sure to enjoy it. I spent as much time as I could diverting my attention from the Fan Cam to watch the enthralled fans going nuts for the stars they had only been able to watch on TV for years. I'll never forget the ring entrance for Rob Van Dam. It's a cliche to say the building was shaking, but I swear it was! Van Dam soaked in every second he could and the fans loved it.
It took me almost eight years to return to Toronto, this time to present the first Ring Of Honor show in that market. It's another night I'll never forget as once again the red hot crowd made the ROH show.
Fast forward to 2011 and I was lucky enough to go back to the Toronto market to promote the Dragon Gate USA "Uprising" pay-per-view. Once again, the fans made the event something special with their incredible reactions from the opening match of Masaaki Mochizuki vs. Akira Tozawa to the main event of BxB Hulk vs. Masato Yoshino.
Finally, tonight, we are ready to bring EVOLVE to Toronto. Our goal is to add to the rich wrestling history of the city. We are pulling out all the stops with a powerful double main event that is full of marquee value.
Fit Finlay vs. Sami Callihan took place at EVOLVE 9 last July. It was an epic war, a battle unlike anything I've seen since the famous Samoa Joe vs. Kenta Kobashi bout in 2005. I'm not in the minority of that opinion as the fans voted it the EVOLVE/DGUSA Match Of The Year for 2011. Now we are finally pulling the trigger on the rematch this Friday. I have to admit, we only booked this match because we are in Toronto. This is our way to make a statement that we are bringing the best we can.
The other half of the double main event is a fresh dream match. Sure, the term "dream match" gets thrown around a lot. When we say it, we mean it. EVOLVE has Low Ki vs. El Generico tonight. Ki is coming off a classic against PAC on WrestleMania weekend at Dragon Gate USA. El Generico can be called the most beloved wrestler on the independents. This is simply a battle of the best.
I look forward to being a part of another loud, fun, crazed crowd in Toronto tonight. I hope you will join us either in person by getting tickets at the door or by watching on live iPPV at www.WWNLive.com
==============================
Gabe Sapolsky worked for our own Hustler De Tuti Hustlers Paul Heyman in the Original ECW and is almost finally caught up on his sleep. Despite the trauma he obviously suffered working for our eccentric boss de tuti bosses, he will present EVOLVE tonight, April 13, 2012 at the DoubleTree by Hilton Toronto Airport, 655 Dixon Road. The show begins at 8pm. The excitement will last all night long.

LOW KI AND EL GENERICO MEET BACKSTAGE IN ANTICIPATION
OF THEIR MATCH TONIGHT FOR EVOLVE IN TORONTO!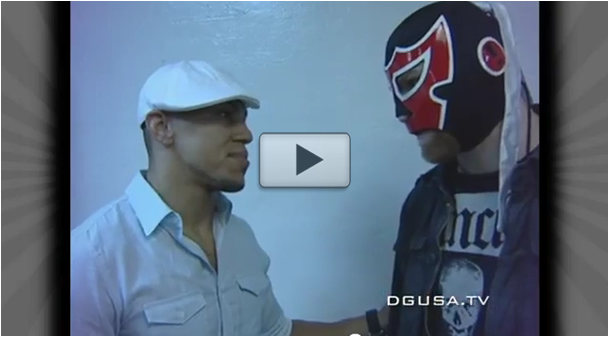 IT'S TIME FOR AN ALL NEW EDITION OF THE HOLLYWOOD CHARLIE
MEDIA WATCH, OUR DAILY TRAVEL ACROSS THE WORLD WIDE WEB.
OUR HIGHLY TRAINED MONKEYS HAVE PICKED OUT THE 15 WILDEST
STORIES FROM THE INTERNET FOR YOUR ASTUTE REVIEW. YOUR PART
IS VERY EASY. ALL YOU NEED TO DO IS PICK A PIC … AND CLICK!