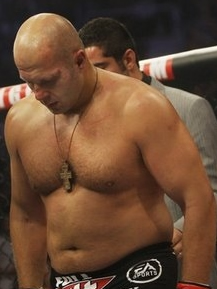 Brazilian Jui Jitsu Master Locks Up Fedor In 1:08 And Forces The Tap!
StrikeForce gave MMA fans all they handle with a stellar event that was broadcast live on Showtime tonight. The big news of the night, and it's huge, is that Fedor Emelianenko was defeated, forced to tap out at 1:08 into the 1st round by Brazilian Jui Jitsu Master Fabricio Werdum.

Emelianenko's 28-fight unbeaten streak ended when he decked Werdum and dove right into his guard. Werdum was immediately going for an armbar, but Emelianenko was pounding and on the move. Werdum cinched it in, though, and then got the triangle choke locked. Fedor's head was turning purple. The drama, which only lasted a few seconds, was enough for a lifetime. Fedor Emelianenko then tapped out for the first time in his illustrious career.

Cung Le avenged the only loss of his career by defeating Scott Smith in the 2nd round of their rematch. Le, who was knocked out by Smith in the 3rd round of their December 19th contest, was tested by Smith, who crowded Le and and was swinging for the knockout blow from the moment the fight started. But Le threw a vicious kick right into the solar plexus, and Smith crumbled against the cage. Le moved in for the kill, and after a quick ground and pound, the referee waved off the fight.

Cristiane "Cyborg" Santos scored a TKO victory over Jan Finney at 2:56 into the second round of their fight, which was a brutal, violent bout. Cyborg actually had a point taken away from her by referee Kim Winslow in the 1st round for hitting in the back of the head. Finney took serious punishment, but never backed down and kept trading punches with Cyborg in what was simply a thrilling match.

San Jose's own Josh Thomson scored a major victory by forcing Pay Healy to tap out to a chokehold with 33 seconds left in the third and final round. Already, people are clamoring for a third Thomson vs Gilbert Melendez contest.
The show also featured a tremendous retirement speech by Frank Shamrock, who was one of the pioneers when Scott Coker first debuted StrikeForce in San Jose.
CLICK ON THE PICS BELOW FOR THE ENTIRE FEDOR EMELIANENKO VS FABRICIO WERDUM PHOTO GALLERY FROM STRIKEFORCE TONIGHT!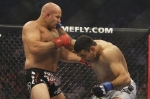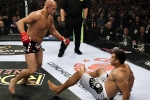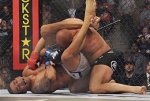 WATCH HISTORY UNFOLD!
CLICK BELOW TO SEE FEDOR VS WERDUM!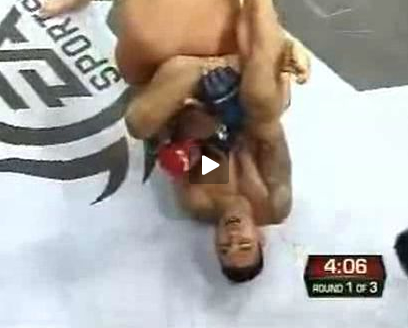 THE HEYMAN HUSTLE'S VERY OWN TRAINED MONKEYS ARE PROUD
TO PRESENT THE TOP 15 STORIES OF THE DAY, ALL CONVENIENTLY
LINKED HERE FOR YOUR REVIEW. NO NEED TO SURF THE WEB, WE
DID ALL THE HARD WORK FOR YOU. JUST PICK A PIC AND CLICK!