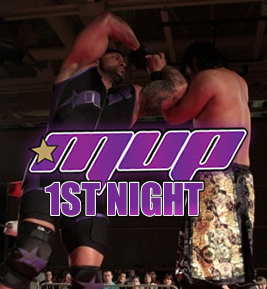 1st in an Exclusive Hustle Series of 3!

When Former WWE United States Heavyweight Champion MVP BECAME THE VERY FIRST-EVER IWGP INTERCONTINENTAL HEAVYWEIGHT CHAMPION one week ago at the old ECW Arena in South Philadelphia, Pennsylvania, a huge part of his life's journey had come full circle.
As he described during his SHOCKINGLY OPEN CONVERSATION WITH DAVID LAGANA, MVP used to watch ECW on television while finishing up a federal prison sentence in Florida. Once he broke into professional wrestling, he told all who would listen that New Japan was his favorite style, and becoming a champion in that organization was the honor he considered the most prestigious he could shoot for.
In this, the first part of our series looking back at MVP's historic title victory, we review his win over Kazuchika Okada in Rahway, New Jersey, enabling The Ballin' Superstar From The 305 to advance into the semi-finals.
You can follow MVP on Twitter (be prepared to engage, he's quite interactive with his fans) HERE
We, of course, are HustleTweeting about MVP's remarkable career growth after voluntarily leaving WWE on his own accord, and you are more than welcome to join the conversation by following THE HEYMAN HUSTLE on Twitter HERE or write to us at hustleoncrave@gmail.com
You can also subscribe (for FREE, cheapos, absolutely FREE) to our Ultra High Quality YouTube Channel HERE, and don't forget to check out our old school social networking skills by visiting us on Facebook HERE and even on MySpace HERE
CLICK ON THE PICS BELOW TO SEE GEORGE TAHINOS' OUTSTANDING
EXCLUSIVE GALLERY OF MVP VS KAZUCHIKA OKADA IN RAHWAY, NJ!

IT'S TIME FOR AN ALL NEW EDITION OF THE HOLLYWOOD CHARLIE
MEDIA WATCH, OUR DAILY TRAVEL ACROSS THE WORLD WIDE WEB.
OUR HIGHLY TRAINED MONKEYS HAVE PICKED OUT THE 15 WILDEST
STORIES FROM THE INTERNET FOR YOUR ASTUTE REVIEW. YOUR PART
IS VERY EASY. ALL YOU NEED TO DO IS PICK A PIC … AND CLICK!