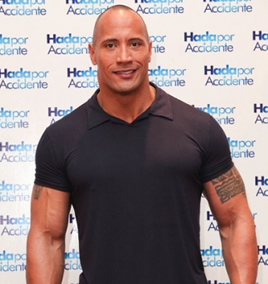 Dwayne Johnson attended the photo call and press conference in Mexico City for the new film "Hada Por Accidente," which is also known as "Tooth Fairy."
Wait a minute. Hada Por … oh, it doesn't matter what the name is, what matters is that Dwayne, formerly known as The Rock, will drive his millions (and millions) of fans to the movie theatres to see his portrayal of Derek Thompson, a hard-charging minor league hockey player who is sentenced to one week's hard labor as a real tooth fairy, complete with the requisite pink tutu, wings and magic wand.
HEY YOU SICK FRRRRRRREAK! DON'T BE A JABRONI!
CLICK ON THE PICS BELOW SO YOU CAN CHECK OUT
DWAYNE JOHNSON AT THE MEXICO CITY PHOTO CALL
FOR "HADA POR ACCIDENTE" AKA "TOOTH FAIRY"
---
THE HEYMAN HUSTLE IS PLEASED TO PRESENT THE 15
HOTTEST, WILDEST, MOST INTERESTING STORIES FROM
THE WEB. ALL YOU NEED TO DO IS PICK A PIC AND CLICK!