Oh no! Someone ate The Angry Grandpa's Corned Beef! You know this can mean nothing but trouble as the hostile patriarch throws one helluva temper tantrum!
"We knew Grandpa was going to go bonkers," family member Junior told us on the phone last night, "but we started wondering if his blood pressure was going to cause his damn head to explode. That man, he just loves his corned beef, and the thought of someone else eatin' the corned beef he thought he hid from everyone else just plum drove him up and down the walls!"

Junior, who is either Grandpa's son, nephew, grandson, or son-in-law (we have an inkling it's a combination of the choices) continued, "Grandpa was having a good day, too. He was fixin' to mow the lawn, do some housework, tidy some things up. Of course, that all went to Hell when he realized the corned beef. That mean sure do love his corned beef!"
TOO CONTROVERSIAL FOR MTV! TOO EXTREME FROM TRU-TV!
CLICK BELOW TO WATCH THE ANGRY GRANDPA SHOW!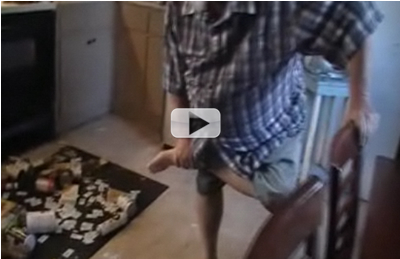 ---
WELCOME TO THE HOLLYWOOD CHARLIE MEDIA WATCH,
YOUR ONE-STOP DESTINATION FOR ALL THAT'S HOT ON
THE WORLD WIDE WEB. NO NEED TO SURF THE NET, OUR
TRAINED MONKEYS HAVE DONE THE HARD WORK FOR
YOU. YOUR PART IS EASY. JUST PICK A PIC AND CLICK!