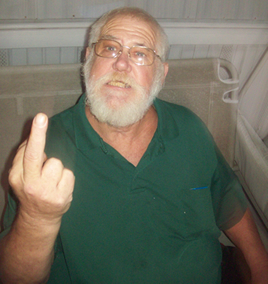 "F" Tru-TV, and "F" MTV (those non-music-video-playin' turds)! The only place to see the world premiere of The Angry Grandpa Show is right here on THE HEYMAN HUSTLE!
"I just don't get it," the hostility-filled Southern-born (Southern-bred, and when he dies, he'll be Southern-dead… which can't be too soon as far as his duckin'-for-cover grandkids are concerned) patriarch screamed at our intern on the telephone this weekend, "my wife … I mean, we talkin' about my woman here … she comes home from a vacation that cost me almost one thousand hard cash dollars … and what does she do? What does she give me for Christmas? I'm fixin' to have me one helluva heart attack, and that'll show 'em. That'll show 'em all!"

It seems as though The Angry Grandpa wasn't all too pleased with the X-mas gift the Mrs. brought home from The Home of THE HEYMAN HUSTLE, New York City. And of course, as always in Grandpa's luxurious double wide, all the action was caught on tape.

You even get Grandpa's uncensored comments afterwards, or –as he screamed this afternoon at that very same intern– "just like one of them reeee-ality shows they got there on that daggum tv. I hate them shows, I hate them people on them shows, and I'm fixin' to start hatin' you just because I know you're recording me, I know you're fixin' to print every-thang I say, and I know you're gonna laugh when my stupid money-spendin' wife goes and gives me my f—-n' present!"

Or, as our own Hustler De Tuti Hustlers Paul Heyman said so eloquently this evening, ("Sigh!")
DON'T KEEP AN ANGRY GRANDPA WAITIN'!
CLICK ON THE VIDEO BELOW AND CHECK OUT
THE VERY 1st EPISIODE EVER … ANYWHERE … OF
THE ANGRY GRANDPA SHOW!
---
IT'S THE HOLLYWOOD CHARLIE MEDIA WATCH,
THE 15 HOTTEST, WILDEST, MOST EXTREME STORIES
OF THE DAY FROM ALL ACROSS THE WEB. WE'VE DONE ALL
THE WORK. YOU JUST NEED TO DO IS PICK A PIC AND CLICK!