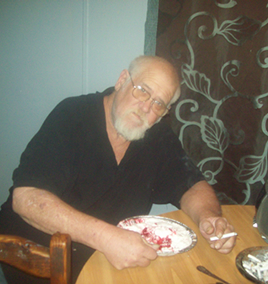 It looks like Sunday, January 17, 2010 was a bad Sunday for The Angry Grandpa. His son explains, "we were going to bring the kids over for Sunday supper, but we got a call from a producer at one of the networks that have been airing the Grandpa videos. I know Grandpa has a compassionate heart, but I think he'd rather see some aggressive charity work for those put out on the street because of the economy than all the publicity for the victims of the earthquake in Haiti."

We reached out for the Grandpa, and asked him for a statement regarding his failed Public Service Announcement. Grandpa said, "Hey, I got nothin' against those people in Haiti. I wish I could help 'em all. God bless each and every one of them people, because they're gonna need God's help in the next few days. But how am I supposed to help 'em when I can't even feed my big fat ass with the food stamps they send me? I'm livin' here in this crummy old ass trailer, and I'm supposed to donate something to the people in Haiti? Hell, I'm not even barely surviving here myself, let alone have a damn penny in my pocket to send to someone somewhere else."

Grandpa wanted it known that he's all heart. "My cousin charges me 7 dollars … 7 whole United States dollar bills we're talkin' here … 7 dollars for a jug of backyard hooch. Now someone tell me how I'm in a position to help anyone," Grandpa yelled, "I used to drink some good wine, some nice red wine with dinner. You know, the kind with the fancy lookin' screw on top? I musta been spending upwards of 4 dollars a bottle! Now I need to drink outta a damned jug, and my own cousin, cuz he ain't got no future that f—in' bum, he charges me 7 dollars to put this here hooch that's just gonna rot my gut, into my system. I've been put out and had my life what you call UPENDED by this here damn economy. Someone send Grandpa some money. And for cryin' out loud, do it NOW!'
CLICK ON THE VIDEO
BELOW TO SEETHE EXCLUSIVE
DEBUT OF THE 2nd EPISODE OF
"THE ANGRY GRANDPA SHOW!'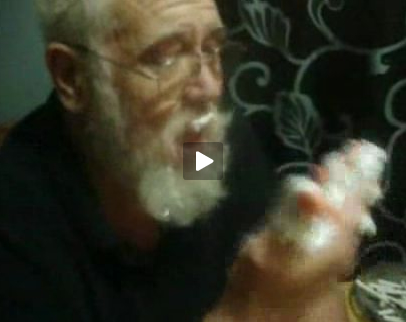 ---
THE HEYMAN HUSTLE PROUDLY PRESENTS THE ALL NEW
AND IMPROVED HOLLYWOOD CHARLIE MEDIA WATCH FOR
MONDAY, JANUARY 18, 2010. HOLY S#!T, I CAN'T BELIEVE
IT'S REALLY TWENTY TEN, AND MY WHOLE LIFE IS ABOUT
SITTING HERE TYPING THESE MEDIA WATCH INTROS.

WHAT'S A STRUGGLING TRAINED MONKEY TO DO? IF ONLY "PLANET
OF THE APES" WAS REAL. PLEASE, JUST PICK A PIC … AND CLICK!