The Man Whose Recruiting Program Lured Brock Lesnar To WWE in 2000 Gives His Opinion on The Biggest Pay Per View Mega-Event of the Year!
Shortly after winning the 2000 NCAA Division I Heavyweight Championship, Brock Lesnar was recruited by World Wrestling Entertainment's Gerry Brisco, who reached out for University of Minnesota head coach Jay Robinson (an old college roomie) on behalf of WWE Chairman Vince McMahon and Head of Talent Relations Jim Ross.

It was Ross' recruitment that lead Lesnar to that fateful decision to sign with the sports entertainment conglomerate, and now the World's Most Popular Oklahoman has blogged on the huge Lesnar vs Cain Velasquez main event this Saturday Night at UFC 121.

You can read JR's entire blog, which includes a look back at the glory days of our own Hustler De Tuti Hustlers Paul Heyman's Original ECW, and a host of other controversial subjects HERE

JR writes:
Brock Lesnar is reportedly at 265 as we speak so there will be no cutting weight for the UFC Heavyweight Champion for next Saturday's eagerly anticipated title defense against undefeated Cain Velásquez. I see this as good for Lesnar fans because already being at the required fighting weight will prevent Brock from having to tweak his diet or training regime prior to the fight in Anaheim. Even though Lesnar will fight lighter than he originally fought in UFC, the former WWE Champion, NCAA All American and National Champion is still beastly strong which could be an key factor in his next encounter in the Octagon. Point is that Lesnar has lost no strength with his lesser weight plus Brock's cardio, one would assume, will be enhanced by not having to carry so much mass in what is expected to be an extremely competitive fight. If Velásquez's camp thinks that Lesnar is going to 'gas' after a round or two then they need to re-evaluate their strategy because that isn't happening. Brock only took two weeks off after defeating then undefeated Shane Carwin and went right back to serious training mode for the Velásquez fight. Lesnar won't be coming off a near one year layoff for this fight either. I could see this PPV doing between 750,00 and one million buys unless the economy is weaker than many perceive.

CLICK ON THE VIDEO
FOR THE MOST UP-TO-THE-MINUTE HYPE FOR UFC 121!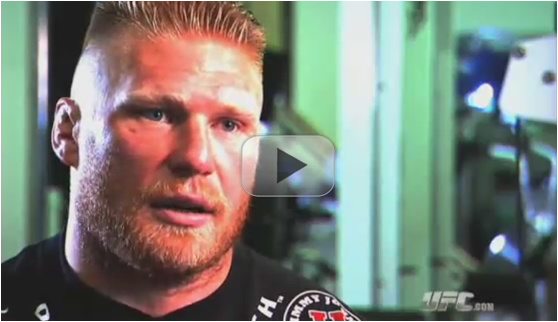 THE HEYMAN HUSTLE'S VERY OWN TRAINED MONKEYS ARE PROUD
TO PRESENT THE TOP 15 STORIES OF THE DAY, ALL CONVENIENTLY
LINKED HERE FOR YOUR REVIEW. NO NEED TO SURF THE WEB, WE
DID ALL THE HARD WORK FOR YOU. JUST PICK A PIC AND CLICK!