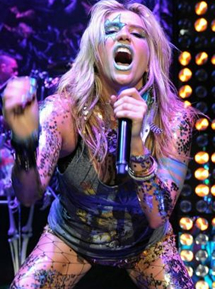 Ke$ha Hits The High Note!
Music sensation Ke$ha made a huge splash as the new face of Casio watches, complete with a mucho-hyped concert at The Manhattan Center in New York City. Wow. Talk about timing!

It reminds me of another artist I worked with just a little over a year and a half ago. Allow me, oh my dear Hustlers, to digress, to take us all on a ride in my personal time machine.

The prestigious spot opening the premier radio concert in the free world, Z100's Jingle Ball in 2008 went to this up and comer you might have heard about … blond hair, brilliant voice, musicianship-cool songs … insanely original image … think her name is Lady Gaga … yeah that's it.
One song… and you could just feel it in the audience.
S-T-A-R!
Cut to: Z100's Jingle Ball 2009 … Pretty hard act to follow, huh? Meet Ke$ha … think of her as a punk rock – super savvy – teased hair version of a young Cameron Diaz.
T-I-C- T-O-K … championship rounds.
One song … lighting strikes twice.
She embraced the challenge with the nerve of a cage fighter.
Interview either one … pretty damn honest … pretty damn cool.
Maybe it's the fact I grew up on the fringe of Glam and deep in the heart of Punk Rock Brooklyn, but I just love it when an artist with hit music chops brings theatricality to the game.
Grabbing a Star from the Kiss Universe, Ke$ha celebrated being the brand "ambassadrix" of the Baby-G women's Casio watches (as in Tik Tok) to the Manhattan Center for the Casio press conference to reveal a ginormous billboard … and later that night, a kick ass performance featuring blue body paint, hooks and fishnets.
Viva la Pop Revolution! Pop music is no longer a man's world.
CLICK ON THE PICS BELOW TO SEE KE$HA IN CONCERT

Mitchell K. Stuart of Looking For Larry Productions, LLC is the co-creator and director of The Heyman Hustle video series, and directed both Lady Gaga and Ke$ha on the Emmy Award winning "Road to MSG" documentary series.

THE HEYMAN HUSTLE'S VERY OWN TRAINED MONKEYS ARE PROUD
TO PRESENT THE TOP 15 STORIES OF THE DAY, ALL CONVENIENTLY
LINKED HERE FOR YOUR REVIEW. NO NEED TO SURF THE WEB, WE
DID ALL THE HARD WORK FOR YOU. JUST PICK A PIC AND CLICK!