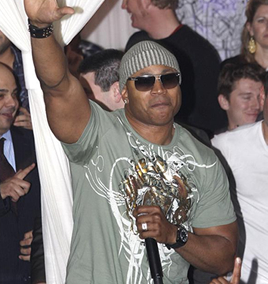 LL Cool J hosted a part at Pure Nightclub in Las Vegas, and the veteran hip hop artist / movie star tore down the house with classics like "Mama Said Knock You Out" and "Headstrong."
"LL Cool J," as you probably know, stands for Ladies Love Cool James. But did you know LL Cool J's "seven degrees of separation" affiliation with THE HEYMAN HUSTLE?

OK, here we go.

LL was in the 2002 movie ROLLERBALL, which of course featured our own Hustler De Tuti Hustlers Paul Heyman. I don't think either one will declare the movie a classic, but I bet they both enjoy those residual checks that show up in the mailbox every now and then!

LL also worked with Hustle co-creator Mitchell K. Stuart, who directed LL in a live-in-studio concert on the popular online series "Stripped : Raw and Real." CLICK HERE TO SEE LL COOL J WORKING WITH HUSTLE CO-CREATOR MITCHELL K STUART.

One of LL's audience members got a special photo op with Cool J, and you won't believe who tracked down the sensational rapper so they could take the pic together! CLICK HERE TO SEE LL COOL J AND HIS SPECIAL GUEST AT PURE.
DON'T CALL IT A COMEBACK!
HE'S BEEN HERE FOR YEARS!
CLICK ON THE PICS BELOW FOR
MORE OF LL COOL J PURE IN VEGAS!
---
THE HEYMAN HUSTLE IS PROUD TO PRESENT THE 15 BEST
STORIES FOUND ON THE WEB OVER THE WEEKEND. DON'T
WASTE YOUR TIME SURFING, WE HAVE EVERYTHING YOU
NEED TO KNOW RIGHT HERE IN THE MEDIA WATCH. ALL
YOU NEED TO DO IS PICK A PIC … AND CLICK!