A Brutally Honest Talk About WWE, New Japan Pro Wrestling, and Coping with The Benoit Tragedy!

When NEW JAPAN PRO WRESTLING PRESENTS ITS VERY FIRST-EVER NORTHEAST UNITED STATES TOUR THIS WEEKEND, a great deal of the focus will be on former WWE Superstar MVP, who will be competing in the New Japan Intercontinental Title Tournament.
MVP continued his frank discussion about all things in life with David Lagana on the www.IwantWrestling.com podcast, and the result is much like PART ONE OF THE INTERVIEW. It is, simply put, the "must-hear" interview series of Twenty Eleven. Very few people in professional wrestling history have ever matched MVP's ability to explain the reality of situations, and this interview is street-level brilliant and articulate at the very same time.
You can follow David Lagana and become part of the #IwantWrestling movement on Twitter HERE
You can follow MVP on Twitter HERE, where you can keep up-to-date on the New Japan Pro Wrestling tour of the Northeast United States, which kicks off with a press conference tomorrow, Thursday May 12th in New York City.
INVASION TOUR DAY 1 – May 13 Rahway Recreation Center in Rahway, New Jersey

INVASION TOUR DAY 2 – May 14 – Basketball City at the 36 Pier in New York City

INVASION TOUR DAY 3- May 15 – Asylum Arena, formerly ECW Arena, corner Swanson and Ritner Streets, South Philly
Of course, we're HustleTweeting about this brutally honest interview, and you're more than welcome to join the conversation by following THE HEYMAN HUSTLE on Twitter HERE or write to us at hustleoncrave@gmail.com
You can also subscribe (for FREE, cheapos, absolutely FREE) to our Ultra High Quality YouTube Channel HERE, and don't forget to check out our old school social networking skills by visiting us on Facebook HERE and even on MySpace HERE
CLICK BELOW FOR PART TWO OF DAVID LAGANA'S FASCINATING
INTERVIEW WITH NEW JAPAN PRO WRESTLING'S MVP!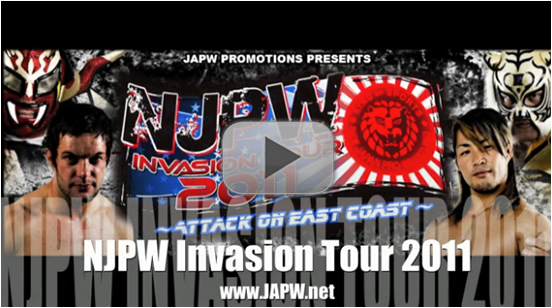 IT'S TIME FOR AN ALL NEW EDITION OF THE HOLLYWOOD CHARLIE
MEDIA WATCH, OUR DAILY TRAVEL ACROSS THE WORLD WIDE WEB.
OUR HIGHLY TRAINED MONKEYS HAVE PICKED OUT THE 15 WILDEST
STORIES FROM THE INTERNET FOR YOUR ASTUTE REVIEW. YOUR PART
IS VERY EASY. ALL YOU NEED TO DO IS PICK A PIC … AND CLICK!