Prominent Blogger Calls The Ballin' Smackdown Sensation "An Inspiration For Kids and Adults Alike!"
Our friend Doug West of POPWRECKED got to meet WWE Superstar MVP at the Midnight on-sale event for the THQ video game SMACKDOWN VS RAW 2011, and the reporter was so moved by MVP's ability to connect with the WWE fans that he felt compelled to document the autograph session on his popular website.
CLICK HERE FOR 100 PERCENT FREE DOWNLOADS TO COMPLIMENT YOUR WWE SMACKDOWN VS RAW 2011 EXPERIENCE!
In an article posted earlier today West wrote: "The line was out the door at the WalMart in Germantown, Wisconsin for the on-sale of WWE's newest video game release … Popwrecked was in town covering The Miz, college wrestling standout Jack Swagger, and popular high flyer Kofi Kingston … All these representatives of the WWE brand were professional and courteous to the throngs who came to see them, but none put on a show more than MVP. The Ballin' Superstar went out of his way to make every fan feel special, and took the time to make sure everyone's picture came out ok, and each fan was satisfied with their time interacting with him. MVP, who has received strong praise for his work with youth programs (he's a former resident in the sterling facilities provided by the prison system in The Sunshine State) couldn't have possibly been more professional or a better representative of WWE. I've met hundreds of wrestlers over the years, and can honestly state there was something very different about this inspirational public figure."
On the POPWRECKED TWITTER PAGE, West posted "WWE Superstar @The305MVP an inspiration for kids and adults alike!"
We're HustleTweeting about MVP, and you're more than welcome to join the conversation, too. Follow THE HEYMAN HUSTLE on Twitter HERE or write to us at hustleoncrave@gmail.com You can also subscribe (absolutely FREE of any charge!) to our Ultra High Quality YouTube Channel HERE. For you old school social networkers, we're on FACEBOOK and MySPACE as well.


WANNA CHECK OUT THE SMACKDOWN VS RAW 2011
VIDEO GAME EXPERIENCE? THEN CLICK BELOW
AND TRAVEL THE ROAD TO WRESTLEMANIA!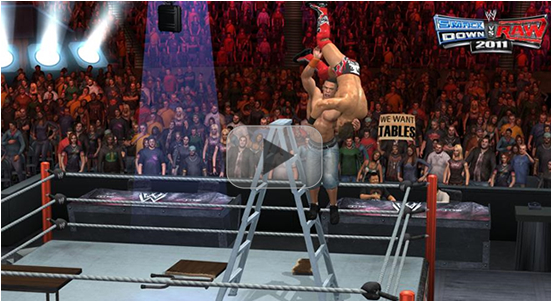 THE HEYMAN HUSTLE'S VERY OWN TRAINED MONKEYS ARE PROUD
TO PRESENT THE TOP 15 STORIES OF THE DAY, ALL CONVENIENTLY
LINKED HERE FOR YOUR REVIEW. NO NEED TO SURF THE WEB, WE
DID ALL THE HARD WORK FOR YOU. JUST PICK A PIC AND CLICK!