Winner Take All … With a Career At Stake!
Former Strikeforce Welterweight Champion and current UFC main eventer Nick Diaz has filed a lawsuit against the Nevada State Athletic Commission seeking relief from a temporary suspension his lawyer Ross Goodman asserts is unlawful.
Diaz (27-8 MMA, 7-5 UFC) lost a unanimous decision to Carlos Condit (28-5 MMA, 5-1 UFC) in an Interim Welterweight Championship Fight at UFC 143 on February 4th in Las Vegas. Soon after the fight, Diaz was placed under temporary suspension when a post-fight drug test revealed the presence of marijuana metabolites in his system.
Diaz's lawyers have attacked the merits of the Nevada State Athletic Commision's case from the beginning, suggesting that the marijuana metabolites that prompted his failed test aren't banned by the NSAC.
In a pair of responses to Diaz's positive test, attorney Goodman argued that the NSAC had no legal basis to suspend Diaz for marijuana metabolites. Further, he asserted that Diaz had not violated statutes when he used the drug outside of competition. In the first response, Goodman included an affidavit from Diaz that acknowledged he was a medical marijuana patient in California and had stopped using the marijuana eight days prior to the fight.
That prompted an amended complaint from the NSAC that stated Diaz not only tested positive for marijuana but misled the commission by omitting that information on pre-fight medical paperwork. Goodman invoked a Nevada legislative statute that said the NSAC must rule on Diaz's case within 45 days of the temporary suspension, which would be April 6th, or Diaz would be able to consider the state's complaint null and void.
Nevada Deputy Attorney Christopher Eccles, realizing he was in for one hell of a fight, responded that the statute applied only in cases in which "the public health, safety or welfare imperatively require emergency action."
Eccles noted that Diaz had not appeared at an NSAC hearing in which a temporary suspension was addressed and reminded Goodman that an agreement to produce Diaz's medical marijuana card was in place. While that card has yet to be delivered to the NSAC, Goodman stands by his earlier claim and is now asking the Clark County District Court to rule as such.
We're in the championship rounds here, folks, and of course we're HustleTweeting about Nick Diaz vs the NSAC, with you being more than welcome to join the conversation by following THE HEYMAN HUSTLE on Twitter HERE or write to us directly at hustleoncrave@gmail.com Hey, have you checked out the Hustle's Ultra High Quality You Tube Channel, with exclusive videos featuring BROCK LESNAR'S "HERE COMES THE PAIN" … ICE-T AND COCO's SEX SECRETS … THE ULTIMATE WELTERWEIGHT BAD ASS NICK DIAZ … CONTROVERSIAL TEEN SENSATION TAYLOR MOMSEN … LEGENDARY MMA PIONEER FRANK SHAMROCK … THE WALKING RIOT MISSY HYATT … if you're not subscribing, you're missing something … and by the ways cheapos, it's FREE! Yes, absolutely 100 percent FREE! What are you waiting for? Check it out HERE!
By the way, we're also old school social networkers, so check out our interactive skills on Facebook HERE and even on MySpace HERE. If you're on Friendster, GFY … and have a pleasant tomorrow!
WATCH NICK DIAZ WITH OUR OWN HUSTLER DE TUTI HUSTLERS PAUL HEYMAN
ON THE SEASON TWO PREMIERE OF "THE HEYMAN HUSTLE!"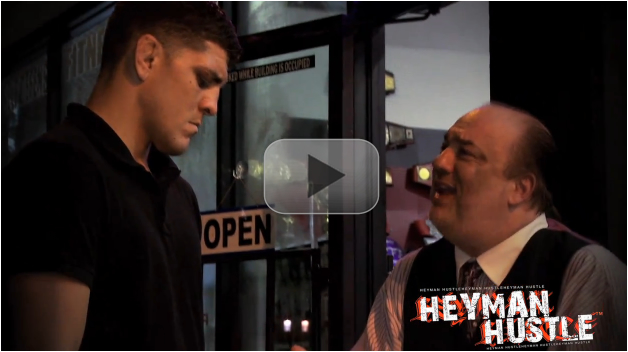 IT'S TIME FOR AN ALL NEW EDITION OF THE HOLLYWOOD CHARLIE
MEDIA WATCH, OUR DAILY TRAVEL ACROSS THE WORLD WIDE WEB.
OUR HIGHLY TRAINED MONKEYS HAVE PICKED OUT THE 15 WILDEST
STORIES FROM THE INTERNET FOR YOUR ASTUTE REVIEW. YOUR PART
IS VERY EASY. ALL YOU NEED TO DO IS PICK A PIC … AND CLICK!