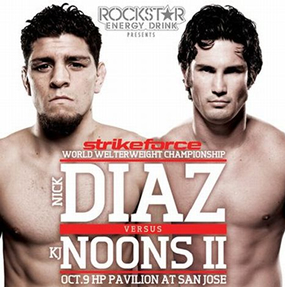 The Strikeforce World Welterweight Champion Opts Out of a Media Call Designed To Promote His October 9th Main Event Against Heated Rival KJ Noons!
Nick Diaz refused to participate in a Strikeforce media conference call with KJ Noons last week, prompting Noons to simply declare Diaz's actions "pretty unprofessional."
The two are scheduled for a showdown, their second against each other, in the main event of a Strikeforce live event to be aired live on Showtime this Saturday night, October 9th, from the HP Pavilion in San Jose, California
CLICK HERE FOR OUR ORIGINAL STORY ON THIS SATURDAY'S NIGHT REMATCH ON SHOWTIME!
30 minutes after the call began, with only Noons answering questions from a host of surprised reporters, Diaz's coach Cesar Gracie joined the call with an explanation.
"Nick doesn't really do the conference call with the guy he's fighting thing," Cesar offered, "He just never has. It's just not in his psyche. He's too busy training to be on the phone and everything like that right now."
Noons defeated Diaz on November 10, 2007 in a fight for the 160 Pound Title in EliteXC. That fight was also broadcast on Showtime. The cageside physician ruled cuts on both of Diaz's eyelids too severe, and stopped the contest after the 1st round.
A war of words ensued, with Noons calling Diaz, who was once suspended by the Nevada State Athletic Commission after testing positive for marijuana, "a pot smoking chump from Stockton." Diaz, meanwhile, labeled Noons' father, King Karl, a "drunk" who should watch his son's fights from home.
Diaz uttered the now-infamous words "Don't be scared, Homie" to Noons when Bill Goldberg tried to interview Noons after a spectacular victory in Hawaii.
Diaz is coming off yet another suspension, this one for the post-fight brawl that broke out on CBS between The Diaz Bros (Nick and his brother, UFC competitor Nate Diaz) and Jason "Mayhem" Miller.
"(Nick Diaz) pretty much has bad blood for everybody who steps into the cage with him," noted Cesar Gracie, "That's what motivates him.
This Saturday night, Strikeforce World Welterweight Champion Nick Diaz defends his championship in his long-awaited rematch against KJ Noons in a fight scheduled for 5 rounds live on Showtime, with Sarah Kaufman defending her STRIKEFORCE Women's Welterweight World Title against No. 1 contender Marloes Coenen.

CLICK ON THE VIDEO BELOW FOR MORE
ON NICK DIAZ VS KJ NOONS II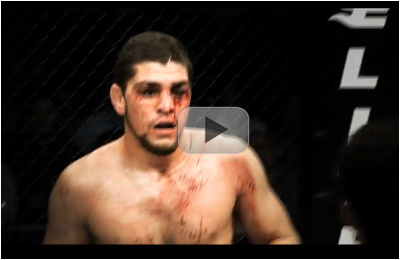 THE HEYMAN HUSTLE'S VERY OWN TRAINED MONKEYS ARE PROUD
TO PRESENT THE TOP 15 STORIES OF THE DAY, ALL CONVENIENTLY
LINKED HERE FOR YOUR REVIEW. NO NEED TO SURF THE WEB, WE
DID ALL THE HARD WORK FOR YOU. JUST PICK A PIC AND CLICK!