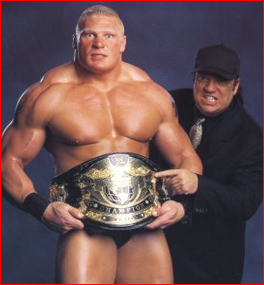 There were no video cameras. Not one cell phone photo. No one even Tweeted from the dinner table (oh, the humanity of it all)! But it was, without question, "one of those moments in life."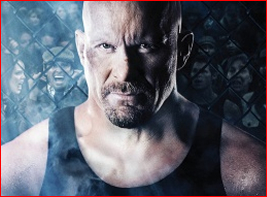 I had dinner in New York City recently with UFC Heavyweight Champion Brock Lesnar and the star of the newly-released DVD action adventure film "Damages," Steve (I'm Still Stone Cold, But Don't Call Me By That Name) Austin. Lesnar was in town for UFC 111, where Shane Carwin and Frank Mir would battle for the right to step into the Octagon against Brock on July 3rd for the Undisputed Heavyweight Championship of the World. With the possible exception of Floyd Mayweather and Manny Pacquiao agreeing to a boxing showdown this calendar year, there is little doubt Lesnar's return on July 3rd will draw the biggest pay per view buyrate of 2010.
Austin, of course, is carving out a niche for himself in Hollywood. His next movie, already completed, is a star-studded blow-'em-up called "The Expendables," starring everyone from Sylvester Stallone, Bruce Willis, Jet Li, Randy Couture, and Mickey Rourke to The Governator himself, Arnold Schwartzenneger. Even his worst critics would have to admit Austin delivers a Charles Bronson-like performance in "Damage," and I can personally attest to the fact several producers are clamoring for Austin to headline the next series of action adventures Hollywood wants to kick out.
Lesnar is returning from a near-death experience, a bout with Diverticulitis and Diverticuloisis that almost necessitated a surgery so severe, it would have had the same impact on his career as an amputation. His return to excellent health is, as he described it, nothing short of a miracle.
Austin is defying the odds, staying away from the wrestling profession (besides the film-promoting opportunity to appear as guest host on a recent edition of Monday Night Raw), when in fact most top stars who leave eventually end up coming back. Steve's star is on the rise in Hollywood, and his recent media appearances promoting the movie have been met with well-deserved praise.
CLICK HERE TO SEE STEVE AUSTIN'S APPEARANCE ON SIRIUS SATELLITE RADIO!
CLICK HERE FOR AS RARE PICTURE OF STEVE AUSTIN AND HIS THEN-ON-AIR-MANAGER PAUL E. DANGEROUSLY (WHO'S THAT GUY?) IN TED TURNER'S WCW, CIRCA 1991!