So here we are, on the day after WWE Extreme Rules … and our very own Hustler De Tuti Hustlers Paul Heyman witnesses The Swiss Superman take Rob Van Dam to the Extreme!
Cesaro demonstrated one hell of a mean streak on WWE Monday Night RAW in his match against ECW Original Rob Van Dam, as The King of Swing continued his rise up the WWE ladder. According to the fine reporters at WWE.com:
Clearly, a "king" does not concern himself with rules. Cesaro – already the "King of Swing" and now the newly proclaimed "King of Extreme" after his Triple Threat victory over Rob Van Dam and Jack Swagger – didn't have much interest in battling Van Dam for a third consecutive time, responding to Mr. Monday Night's tenacity by descending into lawlessness when all was said and done.
A nasty spill over the ropes gave The Swiss Superman some breathing room after a tight back-and-forth, yet Mr. Monday Night countered with an innovative trifecta of roll-up attempts. Cesaro countered The Whole Dam Show's educated feet with his own refined fists, though his temper got the better of him in the end. After trapping RVD in the Tree of Woe, Cesaro began battering him from outside the ring, exceeding the referee's five-count and getting himself disqualified in a display that, truth be told, was a lot more reminiscent of Heyman's other client (the one who did you-know-what) than the WWE Universe might like to admit.
Of course, we're Hustletweeting about Extreme Rules and you're more than welcome to join the conversation by writing us on twitter HERE or write to us directly at hustleoncrave@gmail.com Hey, have you checked out the Hustle's Ultra High Quality You Tube Channel, with exclusive videos featuring OUR WORLD EXCLUSIVE WITH MIKE TYSON … BROCK LESNAR'S "HERE COMES THE PAIN" … ICE-T AND COCO's SEX SECRETS … MMA BAD BOY NICK DIAZ … the list goes on and on, so if you're not subscribing, you're missing something … and by the ways cheapos, it's FREE! Yes, absolutely 100 percent FREE! What are you waiting for? Check it out HERE!
By the way, we're also old school social networkers, so check out our interactive skills on Facebook HERE and even on MySpace HERE. If you're on Friendster, GFY … and have a pleasant tomorrow!
CLICK ON THE PICS BELOW TO SEE THE ENTIRE OFFICIAL WWE PHOTO GALLERY OF CESARO VS RVD!

CESARO VS RVD HIGHLIGHTS!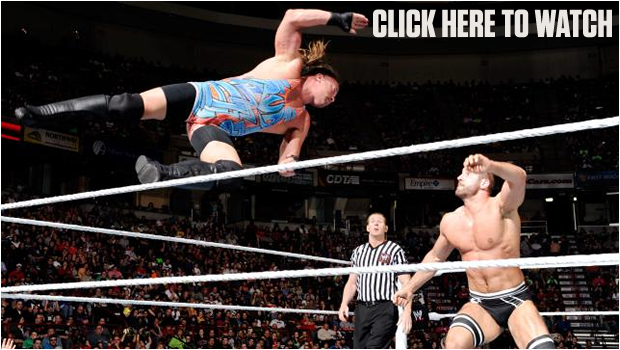 WE HERE AT THE HEYMAN HUSTLE HAVE ENSLAVED HIGHLY TRAINED
MONKEYS TO IGNORE THE FACT THEY ARE OVERWORKED AND UNDERPAID,
ALL IN THE NAME OF SCOURING THE WORLD WIDE WEB TO FIND THE FIFTEEN
MOST PROVOCATIVE STORIES ON THE INTERNET. ALL FOR YOU. NO ONE ELSE
BUT YOU. JUST YOU. AND ALL YOU NEED TO DO IS PICK WHICH PIC TO CLICK!