John Cena … Roman Reigns … Sheamus … Alberto Del Rio … Randy Orton … Cesaro … Friday Night gets an earful from the participants in the Championship Ladder Match!
WWE Smackdown kicked off with a bang, as reported on WWE.com:
Poised and ready to compete in the WWE World Heavyweight Champion Ladder Match at WWE Money in the Bank, John Cena kicked off SmackDown – recapping how the unprecedented match came about and asserting that he would reign supreme to become a 15-time World Champion!
Save Bray Wyatt, the Cenation leader's imminent adversaries (and Paul Heyman) each emerged to dispute his claim and explain why they would be the victorious Superstar in the pay-per-view showdown.
The volatile situation reached a boiling point when Roman Reigns leaped out of the ring to initiate a fierce brawl with Randy Orton. Moments later, Cena and Unites States Champion Sheamus engaged Cesaro and Alberto Del Rio, sending both The Mexican Aristocrat and The King of Swing packing. The intensity generated by this turmoil would only add to the electricity surrounding the 4-on-3 Handicap Match, SmackDown's scheduled main event.
OOf course, we're HustleTweeting about the Championship Ladder Match, and you're more than welcome to join the conversation by writing us on twitter HERE or write to us directly at hustleoncrave@gmail.com Hey, have you checked out the Hustle's Ultra High Quality You Tube Channel, with exclusive videos featuring OUR WORLD EXCLUSIVE WITH MIKE TYSON … BROCK LESNAR'S "HERE COMES THE PAIN" … ICE-T AND COCO's SEX SECRETS … MMA BAD BOY NICK DIAZ … the list goes on and on, so if you're not subscribing, you're missing something … and by the ways cheapos, it's FREE! Yes, absolutely 100 percent FREE! What are you waiting for? Check it out HERE!
By the way, we're also old school social networkers, so check out our interactive skills on Facebook HERE and even on MySpace HERE. If you're on Friendster, GFY … and have a pleasant tomorrow!
CLICK ON THE PICS BELOW TO SEE THE ENTIRE OFFICIAL WWE PHOTO
GALLERY FEATURING THE WILD INTERVIEW AND BRAWL ON SMACKDOWN!

HERE'S THE ENTIRE SEGMENT FOR YOUR VIEWING PLEASURE!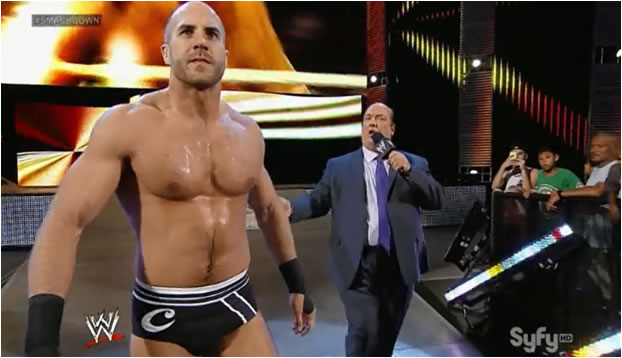 WE HERE AT THE HEYMAN HUSTLE HAVE ENSLAVED HIGHLY TRAINED
MONKEYS TO IGNORE THE FACT THEY ARE OVERWORKED AND UNDERPAID,
ALL IN THE NAME OF SCOURING THE WORLD WIDE WEB TO FIND THE FIFTEEN
MOST PROVOCATIVE STORIES ON THE INTERNET. ALL FOR YOU. NO ONE ELSE
BUT YOU. JUST YOU. AND ALL YOU NEED TO DO IS PICK WHICH PIC TO CLICK!